Only One Team Had FOUR First-Round Picks in One Draft
Published on March 21st, 2022 4:54 pm EST
Written By:
Dave Manuel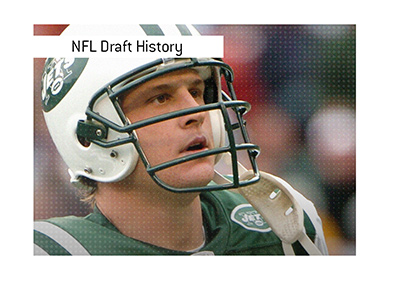 A number of NFL teams have had the luxury of picking three times in a single NFL draft, though only one team in the history of the NFL has picked FOUR times in the first round.
-
The year 2000 was a time of great change for the New York Jets.
To start, Bill Parcells stepped down as coach at the conclusion of the 1999 season, and handed the reins over to his hand-picked successor, Bill Belichick.
On January 4th, 2000, Bill Belichick spoke at a press conference, where he RESIGNED as coach of the Jets, and soon inked a deal to become the head coach of the New England Patriots.
The Jets and Parcells were furious, and demanded that the NFL give the team compensation for this stunning turn of events, as they alleged that Belichick was still under contract with the team.
The NFL agreed, and gave the Jets New England's first round pick in the 2000 draft.
That was pick number one.
On April 12th, 2000, Keyshawn Johnson was traded to the Tampa Bay Buccaneers for the team's two first-round picks in the 2000 NFL draft - the 13th and 27th picks.
These were the second and third picks.
In addition, the Jets obviously had their own pick as well, which made a total of four first-round picks.
-
The Jets, following a trade with the 49ers, ending up picking in the #12, #13, #18 and #27 spots. They would take:
The Jets would end up taking:
#12 - Shaun Ellis
#13 - John Abraham
#18 - Chad Pennington
#27 - Anthony Becht
All in all, the Jets did pretty well with these picks - Ellis and Abraham would both make the Pro Bowl multiple times, with Abraham finishing his career as a 2x First-team All-Pro player.