Seattle Seahawks Top List For Past Decade
Published on June 28th, 2022 1:36 pm EST
Written By:
Dave Manuel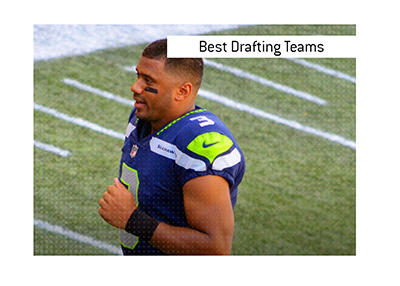 If a NFL team drafts well, they are almost certainly going to outperform. This goes without saying.
The draft is so important as it allows teams to add quality players for cheap, as they are on rookie contracts.
If a team can land a great QB on a rookie deal, it's almost a cheat code, as it allows them to load up in other positions.
-
ESPN calculated the top drafting teams
over the past decade (2012-2021) by using Pro Football Reference's AV values (Approximate Value) and creating their own number - Career Approximate Value over Expected.
After calculating these numbers, ESPN concluded that the Seattle Seahawks were the top drafting franchise of the past decade, thanks mainly to their exceptional 2012 draft.
That was an unbelievable draft, as the Seahawks drafted Bobby Wagner in the second round and Russell Wilson in the third, as well as J.R. Sweezy in the 7th.
The 2012 draft for the Seahawks is one of the best drafts of ALL time.
-
Next up on the list? The Kansas City Chiefs, who enjoyed fantastic draft classes in 2015, 2016 and 2017, that produced Marcus Peters, Tyreek Hill and, of course, Patrick Mahomes.
-
#3 on the list? The Baltimore Ravens, who had fantastic drafts in 2013 and 2018.
The 2018 draft class for the Ravens was unbelieable, as they drafted the likes of Lamar Jackson, Orlando Brown, Jr. and Mark Andrews, to name a few.
-
The worst drafting team over the past decade? That'd be the New York Jets, who have consistently bombed when it comes to their drafts.
The team has consistently missed out on their picks, whiffing on the likes of Sam Darnold and others.
It's not a surprise, of course, that the Jets have had terrible records over the past 10 years.
-
The Browns have the second worst record at drafting over the past decade, though they have managed to stem the bleeding over the past 4-5 years.
The team had 5 terrible drafts from 2012-2016, producing the likes of Trent Richardson and Barkevious Mingo, to name a few.