NFL 2011/2012 - Free Betting Picks of the Day
Published on September 19th, 2011
Click Here to Qualify for a £200 Bonus at Bet365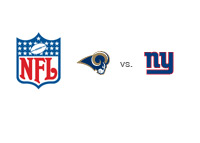 Monday night Football takes place tonight between the two 0-1 teams looking for their first wins with St. Louis Rams visiting the New York Giants.
Giants lost at Washington last week and were outplayed all along. Score was 28-14 and the game never looked in any doubt. Eli Manning threw for 268 yards, (0 TD 1 INT) ran for a score and was sacked 4 times for a QB rating of 70.8. Not a great start to the season for Eli plus the offense converted only 1 of 10 third downs. Defense allowed 332 yards and 5-15 third down conversion and 14 points in the second quarter alone.
The Rams were beaten by Philadelphia at home in a very expected result. Second year QB Bradford had a solid game throwing for 188 yards with no TDs or picks. Carnell Williams rushed for 91 yards in the loss and he will be utilized heavily again tonight to alleviate some pressure off the young QB.
Bookies are favoring Giants, understandably, as they give them 1.31 odd on Moneyline. Not a bad bet for high-rollers providing that the experienced NY Giants will probably secure this game even before the final quarter.
One interesting bet here is the first half spread which is set at +/-4.5. We would go for the Giants here as well. It pays 1.91 and they are expected to lead by four or more at the half. This being said they will probably beat the full time spread as well which is at +/-7.0. Same pay out as half time.
King's picks:
Giants win – 1.31
Giants beat half time spread set at +/-4.5
Giants beat full time spread set at +/-7.0