New York Jets Haven't Been To Playoffs in 12 Seasons
Published on January 8th, 2023 6:46 pm EST
Written By:
Dave Manuel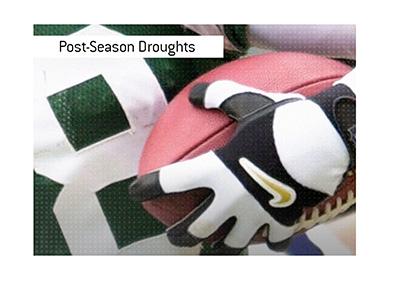 Which NFL team has the longest current post-season drought? Which team has gone the most seasons without making it to the playoffs?
The answer: the New York Jets.
The last time that we saw the New York Jets in the playoffs was in 2010, when they made it all the way to the AFC Championship.
The Jets would end up losing that game to the Pittsburgh Steelers by a score of 24-19.
There was a great deal of optimism surrounding the Jets franchise at that point - after all, they'd just made the AFC Championship game.
Who would have known that, 12 years later, they would own the dubious title of the team with the longest post-season drought?
Since 2010, the Jets have mostly been in shambles, usually missing the playoffs by a wide margin.
Things seemed to be looking up in 2022, as the team managed to put together a string of victories, only to end up missing the playoffs again in the last few weeks of the season.
With the likes of Garrett Wilson, Sauce Gardner and Breece Hall now on their roster, can the Jets finally break through next year and shed the dubious title of the team with the longest active post-season drought?
-
Here are the five teams with the longest active post-season droughts:
New York Jets, 12 Seasons
Denver Broncos, 7 Seasons
Detroit Lions, 6 Seasons
Carolina Panthers, 5 Seasons
Atlanta Falcons, 5 Seasons
-
The longest-ever streak with no post-season appearances is shared by the Washington Commanders and Arizona Cardinals, who both went 25 seasons without making the playoffs.