The NFL Draft has Endured Through World Wars and Illnesses
Published on April 2nd, 2020 3:10 pm EST
Written By:
Dave Manuel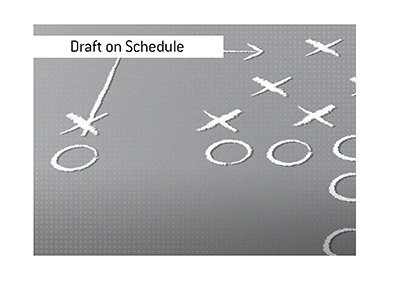 Late last month, the NFL announced that they would be moving ahead with their Draft in late April, much to the chagrin of some of the league's General Managers.
After all, the Coronavirus is wreaking havoc throughout the nation, so how are GMs supposed to properly evaluate players in person?
The NFL, after consultation amongst the teams in the league, decided to press ahead, as they seem hellbent on maintaining their season schedule. Free agency went ahead, and the NFL draft looks to be going ahead as well.
-
This raises the question - has the NFL draft ever been delayed or postponed before?
The very first draft took place in February of 1936, so the draft has taken place through World Wars, illnesses and other calamities.
Despite the fact that some sports leagues elected to postpone their seasons during the second World War, the NFL pushed on, and they still conducted their draft, even through the war. Back in those days, the draft was conducted on a chalk board, though league representatives decided to press forward.
-
Over the years, the NFL has held their draft through:
World War II, Vietnam, Great Recession, Korean War, 9/11
It seems as though the league is going to be undeterred once again in 2020, as it seems as though they will host their draft through the Coronavirus.
Unlike in previous years, however, this year's draft will be much different, as teams will be very limited in how they evaluate players, due to social distancing regulations that are currently in effect.