Bobby Petrino, Jon Gruden Top List of In-Season Resignations
Published on October 12th, 2021 2:02 pm EST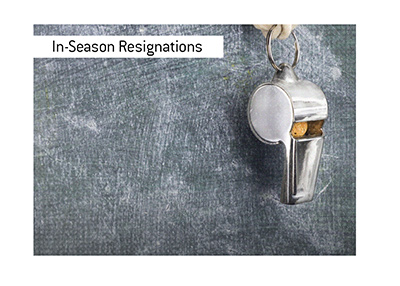 It's pretty rare when a NFL coach actually resigns from their position - usually they are fired.
The reason? If a coach resigns, they are walking away from the rest of their contract, which is usually pretty lucrative.
For that reason, most NFL coaches will hang on until they are actually fired.
-
Here is a list of five high-profile NFL head coach resignations that have taken place during the regular season:
1.
Jon Gruden.
Gruden, of course, stepped down after emails that he had sent 10 years previous turned up.
After a second batch of emails were produced that contained some anti-gay language, the Raiders and Gruden decided to part ways.
Technically speaking, Gruden resigned from his position.
2.
Bobby Petrino.
Bobby Petrino was hired out of the college coaching ranks by the Atlanta Falcons in order to oversee the development of Michael Vick.
Vick, however, would be forced out of the league due to his involvement in dog-fighting, and the Falcons would spiral to a 3-10 record during Petrino's first year.
Petrino decided to return to college mid-season, accepting a job at the University of Arkansas.
Instead of facing his team, Petrino elected to leave laminated cards on each of his player's locker room stools.
The players were not impressed, to say the least.
3.
Lou Holtz.
College football legend Lou Holtz tried his hand at NFL coaching, and it did not go well.
Holtz was hired by the New York Jets in 1976, and quickly discovered that his college method of coaching did not translate to the NFL.
In fact, Holtz even created a song that he would try and have his players sing - they didn't go for it.
With the Jets posting a dreadful 3-10 record, Holtz elected to resign with one game left in the season, and quickly returned to the college coaching ranks, where he would remain for the rest of his life.
4.
Bruce Coslet.
Bruce Coslet was the coach of the Cincinnati Bengals from 1998-2000.
After compiling a record of 7-25 during his first two full campaigns, Coslet went 0-3 to start 2000, with the Bengals putting up just 7 points in three games.
At this point, Coslet decided that enough was enough, and he resigned.
After serving as the offensive coordinator for the Dallas Cowboys in 2002, Coslet was let go, and he has not worked since.
5.
Dave Wannstedt.
Dave Wannstedt stepped down as the coach of the Miami Dolphins during the 2004 season.
At the time, the Dolphins were 1-8, and Wannstedt felt as though his job status was a "distraction", so he stepped down.
Wannstedt would take a job with the University of Pittsburgh before returning to the NFL seven years later.