Can The New England Patriots Regain Their Step Against the Dolphins at Home?
Published on September 28th, 2018 11:15 am EST
Written By:
Dave Manuel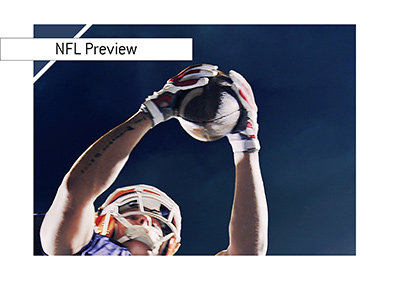 Week 4 of the 2018 NFL regular season is now upon us. This week's schedule is highlighted by a number of big games, including the New England Patriots playing host to the Miami Dolphins and the Baltimore Ravens travelling to Pittsburgh for a key AFC Central clash.
Let's take a look at the odds for this weekend's games, as well as a few thoughts on every match-up:
Buffalo Bills (+9) vs Green Bay Packers (-9), O/U 45
The Bills surprised the entire world last weekend when they shocked the Minnesota Vikings on the road. Josh Allen looked every bit as good as his high draft pick, while the Bills' defence made the Vikings look silly.
Are the Bills for real or will they be smashed on the road against Aaron Rodgers and the Packers?
Cincinnati Bengals (+3.5) vs Atlanta Falcons (-3.5), O/U 53.5
The highest total of the week. The Falcons' defence has been decimated by injuries, while their offence has been lighting it up, thanks to a resurgent Matt Ryan and the receiving tandem of Julio Jones and Calvin Ridley.
Andy Dalton has looked strong this year and will lead a talented offence that includes the likes of Green, Boyd and Eifert. Expect a shootout in this contest.
Detroit Lions (+3) vs Dallas Cowboys (-3), O/U 44
After a disastrous start to their season, the Lions rebounded in a big way by crushing the New England Patriots at home on Sunday Night Football.
The Cowboys have been relying heavily on Ezekiel Elliott this season, as Dak Prescott seems to have lost his way. Look for the Cowboys to feed Elliott early and often in this one.
Houston Texans (+1) vs Indianapolis Colts (-1), O/U 47
After a shaky start to the season, Deshaun Watson seems to be returning to form, led by the receiving tandem of Hopkins and Fuller.
Andrew Luck is back, though his arm certainly doesn't seem to be what it once was.
Neither team has much of a running game, which means that this battle could turn into a blowout.
Miami Dolphins (+6.5) vs New England Patriots (-6.5), O/U 48.5
The New England Patriots have lost two games in a row, and they are remarkably good over the past decade when in that position.
Tom Brady and the Pats are at home this weekend, which puts them into what could be a smash spot. This is an important AFC East battle, as the Dolphins could really solidify their early season grip on the division with a victory.
New York Jets (+7.5) vs Jacksonville Jaguars (-7.5), O/U 38.5
This is a tiny total as both teams boast uneven offences and strong defences. The Jaguars have been missing Leonard Fournette on offence, as he creates a much more balanced attack that opens things up for Blake Bortles in the air.
If Fournette ends up playing, the Jaguars will get a massive boost.
Philadelphia Eagles (-3.5) vs Tennessee Titans (+3.5), O/U 41
The Titans are a mess right now, as Mariota continues to battle injuries and the rest of their offensive attack is uneven at best.
The Eagles recently received Carson Wentz back at QB, which automatically makes them one of the league's best teams.
The Titans will need to deal with a tough Philly defense and an offence that is well-balanced.
Tampa Bay Buccaneers (+3) vs Chicago Bears (-3), O/U 46.5
Who will play at QB for the Buccaneers - will it be Fitzpatrick or the returning Winston?
The Bears have one of the most ferocious defences in the league, though their offensive attack is sputtering. Can the team get Jordan Howard going? Can they unlock the talents of Allen Robinson?
Cleveland Browns (+2.5) vs Oakland Raiders (-2.5), O/U 45
In my opinion, this is one of the most intriguing match-ups of the week. The Browns are sky-high following their first victory in almost two years, while Jon Gruden and the Raiders are looking for their first win.
In addition, Baker Mayfield will be making the start for the Browns - this is one of the most intriguing match-ups of the week. Are the Browns for real?
Seattle Seahawks (-3) vs Arizona Cardinals (+3), O/U 39
The Seattle Seahawks will benefit from the likely return of Doug Baldwin, who has declared himself fit enough to play on Sunday.
Both of these teams are looking up at the Rams, who are at the top of the division following a perfect 4-0 start.
The Cardinals have been absolutely dreadful this year, especially on offence. David Johnson, formerly one of the league's top talents, has been nowhere to be found, largely due to some questionably play calling.
New Orleans Saints (-3.5) vs New York Giants (+3.5), O/U 50.5
This could end up being the biggest shootout of the week. Drew Brees has returned to form this season, which has dramatically increased the performance from the likes of Michael Thomas.
The Giants have a dangerous offence that includes OBJ and Saquon Barkley.
There might not be much defence played in this contest.
San Francisco 49ers (+10) vs San Diego Chargers (-10), O/U 46
The 49ers lost their starting QB last weekend, as Jimmy G was felled by a torn ACL. This almost certainly means that the 49ers are done this year.
The Chargers, on the other hand, will be looking to continue to contend in the AFC West and keep pace with the Chiefs. The Chargers will likely feed San Francisco a heavy dosage of Mel Gordon early and often.
Baltimore Ravens (+3) vs Pittsburgh Steelers (-3), O/U 50.5
In the past, a Ravens/Steelers game would have been a defensive slobberknocker. Things have changed, and you can expect that this contest will turn into a shootout. Antonio Brown, Juju and John Brown will likely be front and center on Sunday night.
Kansas City Chiefs (-4) vs Denver Broncos (+4), O/U 54.5
Can anything or anybody stop Patrick Mahomes? Since taking over the Kansas City Chiefs' offence, Mahomes has been electric, passing for at least 3 TDs in every game so far this season.
Can Von Miller contain Mahomes and the Chiefs' offence? Can a Case Keenum led Broncos offence keep up?