Don't Hold Your Breath on New NFL Expansion Franchises
Published on May 10th, 2022 12:34 pm EST
Written By:
Dave Manuel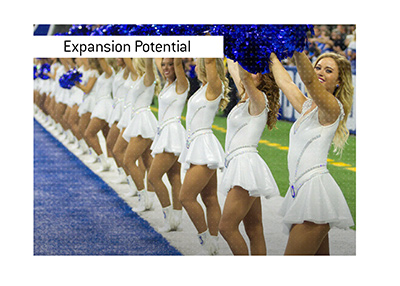 Earlier this week, Dallas Mayor Eric Johnson stated that the NFL should consider bringing a second team to the area.
The reason? The area is growing in population and the state is mad about football.
Now, Dallas Cowboys owner Jerry Jones would almost certainly never allow this to happen (and he has tremendous pull in the league), though it does pose an interesting question - which cities might be next on the NFL expansion list?
-
The last expansion franchise that was granted by the league was the Houston Texans in 2002.
There was plenty of talk of an expansion franchise (or two) being granted to the city of Los Angeles, though the relocation of the Rams and Chargers to Los Angeles solved that issue.
Las Vegas was also seen as a likely expansion spot, though the Oakland Raiders moved their team there following a 2017 vote.
-
Here is the issue - the NFL owners love the current 32 team setup in the league.
The league has eight four-team divisions, and there isn't much support to change that anytime soon.
In order to expand, the league would likely need to add a bunch of teams at once, and this would likely involve expanding to Europe.
The league plays games every year in Europe, and if expansion franchises were to happen, they would likely be given to European cities such as London, Berlin and Frankfurt.
If this ever does happen, the league would likely give out at least four expansion franchises at once, at a bare minimum.
The problem? Players don't enjoy travelling to Europe, and it is very disruptive to the season schedule. Travelling a few hours during the week is one thing - travelling from Los Angeles to London is another.
-
There is also the possibility of an expansion franchise being given to the city of Toronto. There was talk of the Buffalo Bills moving to Toronto a few years back, though nothing became of it. The city of Toronto is certainly big enough to support the NFL.
-
At this point, a major NFL expansion seems unlikely, as there seems to be little appetite from the owners and players.
20 years have gone by without a new expansion team being granted - don't be surprised if another 20 years pass as well.