New Jersey Devils Scored Three Own Goals in One Game
Published on August 4th, 2022 1:11 pm EST
Written By:
Dave Manuel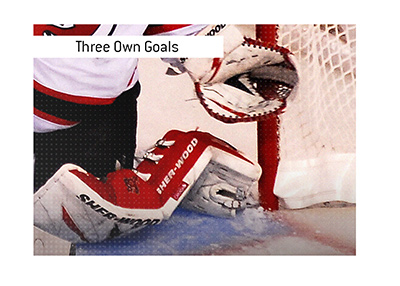 "Own goals" aren't very common in hockey.
In any given season, there will likely be a few dozen own goals spread across the league.
That's why December 9th, 2018 was such a "special" situation, as the New Jersey Devils managed to score three own goals - in a single game.
-
On December 9th, 2018, the New Jersey Devils were in the midst of a West Coast road trip, and they were taking on the Ducks in Anaheim.
The first own goal that the New Jersey Devils scored came when a Ducks player centred the puck. The Devils goalie came out of the net, and the puck deflected off of a Devils defenseman and went into the net.
Embarrassing, but these things happen.
The second own goal saw the Ducks lob the puck at the Devils net. A Devils defenseman tried to grab the puck with his glove, only to change the course of the puck and deflect it past Cory Schneider.
That's two own goals.
The third own goal saw a mad scramble in front of the Devils goal with minutes left in the game. A Devils defenseman tried to bat the puck out of the way, only to bat it into his own net past Cory Schneider.
That's three own goals in a single game.
Here they are, in all of their glory:
-
Will this feat ever be repeated again?