Patriots Currently Favored Over The Philadelphia Eagles
Published on January 22nd, 2018 6:15 am EST
Written By:
Dave Manuel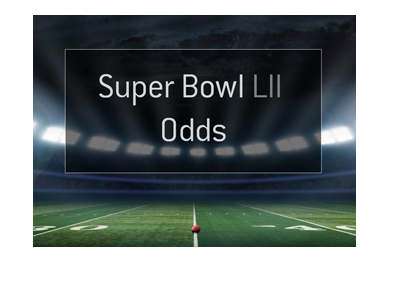 Two months ago, shortly before the season-ending injury to MVP candidate Carson Wentz, nobody would have batted an eyelid if they were told that the Philadelphia Eagles would be squaring off against the New England Patriots in the Super Bowl.
After all, at the time of Wentz's injury, the Eagles were crushing it, while the Patriots were superlative as always.
A number of crushing injuries have befallen the Eagles, however, including a season-ending injury to arguably their best player, quarterback Carson Wentz.
With Nick Foles running the offence, the Eagles have been home underdogs in both of their two playoff games so far.
After narrowly edging out the Atlanta Falcons, the Eagles smashed the Minnesota Vikings in the NFC Championship game earlier today and will now be squaring off against the evil empire, the New England Patriots.
The Philadelphia Eagles will be in familiar territory when they square off against the Patriots on Superbowl Sunday - they will be the underdogs.
Here are the current betting odds as of this moment, courtesy of Bet365:
Source: Bet365
Time Stamp:
January 22nd, 2018 11:07 am GMT
Odds Subject to Change
Philadelphia Eagles, +5.5, 1.90
New England Patriots, -5.5, 1.90
Over/Under
Over 48 points, 1.90
Under 48 points, 1.90
Money Line
Philadelphia Eagles, 2.90
New England Patriots, 1.43
-
Nick Foles played one of the games of his life on Sunday against the Vikings, and the Eagles will need more of the same if they want to have a chance against Tom Brady and company.
Players like Jay Ajayi and Alshon Jeffery will be essential to Philadelphia's chances of winning. If the Eagles can get big efforts from those two men, they stand a decent chance of winning. Of course, the Philadelphia defence will need to be top notch as well.
The New England Patriots, on the other hand, need to mix things up between their running game (led by Dion Lewis) and a vaunted pass attack that includes the surging Danny Amendola, Gronk and Chris Hogan.
The Eagles will need to get past the aura of the Patriots if they want to have a chance of winning, and Nick Foles will need to be superb.
This is a more fascinating game than what some people might think, as it involves two of the very best coaches in the league. This could easily end up being another classic, despite the numerous injuries to some of Philadelphia's top players.