NBA To Officially Resume on July 30th
Published on June 26th, 2020 5:17 pm EST
Written By:
Dave Manuel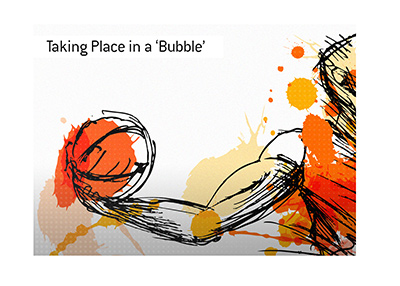 It's an aggressive plan that took an unbelievable amount of planning and preparation, but the NBA is officially back in business.
Earlier today, NBA Commissioner Adam Silver revealed that the league is officially returning on July 30th, with training camps starting earlier in the month on July 7th.
The entirety of the remainder of the NBA season will take place in a "bubble", which is located at Disney World in Florida.
This "bubble" is being set up to prevent an outbreak of the Coronavirus amongst the players and coaches in the league. Players will essentially be forming their own cities for the rest of the NBA season, as well as coaches, personnel, referees and more.
It is essentially summer camp but for some of the world's highest paid athletes.
The season will officially kick off on July 30th, where the remaining 22 teams will play eight regular season games to finish off the season. These 22 teams include those who sit in a playoff spot and those teams that are deemed close enough to compete for a playoff spot.
After the playoff teams have been set, the league will finish out with a regular playoff schedule.
There will be no fans in attendance, though the league is resuming play in order to satisfy their broadcasting rights, which is worth a significant amount of money to the league (and its players).
-
This return is coming at a very strange time for the United States, as the number of Coronavirus cases has spiked once again, despite the fact that we are in the summer months.
Particularly troubling is the fact that one of the Coronavirus outbreak "hotspots" is Florida, which is where the NBA will be setting up shop.
NBA Commissioner Adam Silver acknowledged this reality on Friday, and he said that the league would have the option of shutting down if there was a major Coronavirus outbreak.
In fact, over 5% of the players that have been subjected to testing for the virus have tested positive so far, including Malcolm Brogdon and Jabari Parker, to name a few.
-
While leagues like Bundesliga and La Liga have resumed play in relatively calm environments (in terms of the Coronavirus spread), leagues like the NBA, NHL and NFL will be resuming amidst a second spike of the virus.
Will these leagues get their full seasons in? How big of a Coronavirus outbreak would there have to be to halt a season? Will any, some or all of the leagues finish play this year?
Things are about to get interesting, as all four of the major North American leagues will be starting their training camps in July.