Chimaev Big Favourite in Nate's Possible Last UFC Fight
Published on November 3rd, 2021 4:37 pm EST
Written By:
Dave Manuel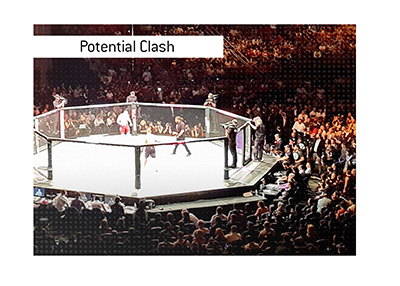 July 19th, 2022 Edit
DraftKings has opened their line on this fight at:
Khamzat Chimaev,
-1150
Nate Diaz,
+750
These odds mean that you would need to bet $1,150 on Chimaev in order to have a chance of winning $100 in profit.
A successful $100 bet on Diaz, however, would return a total profit of $750.
The two men are set to fight at UFC 279 in what will almost certainly be Nate's last fight with the promotion.
-
Khamzat Chimaev is taking the mixed martial arts world by storm.
There is the possibility that Chimaev's next opponent will be the winner of Covington/Usman 2 this week, though the UFC is reportedly working on another possible opponent for the rising star - Nate Diaz.
UFC President Dana White recently said that he was "100%" interested in a potential clash between Diaz and Chimaev, and that he was going to talk to Nate about it.
It's no coincidence that Nate currently has one fight left on his UFC contract. In the past, the UFC has shown a willingness to give their fighters tough opponents if they plan to fight out their contracts, and Nate Diaz appears to be no different. There are some interesting possbilities for Diaz if he elects to fight out his contract, including a potential boxing match against Jake Paul.
The UFC apparently isn't going to make it easy for Diaz, as they seem to want to put together a Diaz/Chimaev fight. Chimaev would be pretty much the worst possible opponent for Diaz, as Chimaev is a fantastic wrestler, which Nate has had issues with in the past.
-
It's no surprise that an offshore book has installed Chimaev as a big favourite in this potential fight - here are their betting odds:
Khamzat Chimaev, -550
Nate Diaz, +425
Chimaev has looked unbeatable in the UFC so far, as he has smashed everybody that has been put in front of him so far.
Diaz is an extremely durable fighter who has plenty of experience, though would he have a chance against the wrestling and ground-and-pound of Chimaev?
-
It will be interesting to see if Diaz takes this fight. If he signs a long-term deal with the UFC, I have a feeling that Chimaev might fight for the title instead.