Norm Van Brocklin Still Holds The Record With 554 Passing Yards
Published on November 20th, 2020 12:45 pm EST
Written By:
Dave Manuel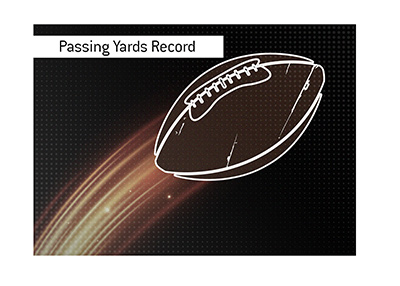 It's hard to believe that in this day and age, the NFL record for most passing yards in a game is over 50 years old.
That's right - the record isn't held by Patrick Mahomes or Tom Brady or Drew Brees or Peyton Manning or any of the other great quarterbacks that have played in the NFL over the past 20-30 years.
Instead, the record is held by Norm Van Brocklin, who amassed a total of 554 passing yards in a game against the New York Yanks on September 28th, 1951.
Note: the record for the "modern NFL" is co-held by Matt Schaub (November 18th, 2012) and Warren Moon (December 16th, 1990), who both threw for 527 yards. Coincidentally, both players were with the Houston franchise at the time.
-
The Los Angeles Rams obliterated the New York Yanks by a score of 54-14 on Friday, September 28th, 1951.
Norm Van Brocklin would throw for 554 yards, 5 passing TDs and two interceptions during the romp.
In addition, he also rushed for one touchdown.
The Rams kept the pressure on all game, with Van Brocklin continuing to connect with his wide receivers even after the game was far out of reach.
-
Here are the top 10 passing yard performances in NFL history:
1. Norm Van Brocklin
554 Yards
September 28th, 1951
2. Matt Schaub
527 Yards
November 18th, 2012
3. Warren Moon
527 Yards
December 16th, 1990
4. Joe Burrow
525 Yards
December 26th, 2021
5. Boomer Esiason
522 Yards
November 10th, 1996
6. Ben Roethlisberger
522 Yards
October 26th, 2014
7. Dan Marino
521 Yards
October 23rd, 1988
8. Matthew Stafford
520 Yards
January 1st, 2012
9. Jared Goff
517 Yards
September 29th, 2019
10. Tom Brady
517 Yards
September 12th, 2011
-
The NFL is becoming more of a pass-first league, so I expect that you'll see many more 500+ yard passing games over the coming decade.
The 500+ passing yard game usually requires a high-scoring, close game. If one team is blowing out another after the first half, the team that is leading will usually switch to a running game in order to eat up the clock.