Jerry Rice, Jim Otto Lead List With 10 First-Team All-Pro Selections
Published on February 4th, 2023 2:52 pm EST
Written By:
Dave Manuel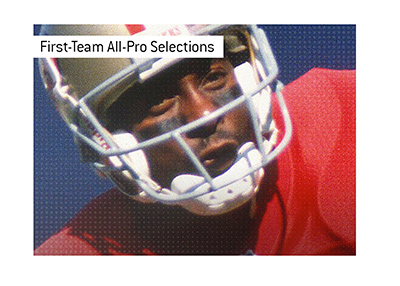 When you think of all-time leaders in first-team all-pro selections in the NFL, what are some of the names that pop into your mind?
Tom Brady? Peyton Manning? Lawrence Taylor?
Guess again.
-
Two players - Jerry Rice and Jim Otto - have been named as first-team All-Pros a total of 10 times.
Considering that the active leader in first-team All-Pro selections - Aaron Donald - currently has 7 selections, the record that Rice and Otto share is likely safe for the time being, as Donald has made noises about retiring soon.
-
Ron Mix and Anthony Munoz both have 9 first-team All-Pro selections to their names, while a number of all-time greats - including Lawrence Taylor, Reggie White, Jim Brown and Bruce Smith - have 8 selections.
Peyton Manning was named first-team All-Pro 7 times, while Brady received the distinction just three times over the course of his storied career.
-
Jerry Rice had an eleven year run of supreme excellence where he was named First-Team All-Pro a total of 10 times.
Rice was named first-team All-Pro the final time at the age of 34, which is an amazing accomplishment considering that many non-QBs have retired by that age.
-
Jim Otto was named first-team All-AFL in 1960, 1961, 1962, 1963, 1964, 1965, 1967, 1968 and 1969, as well ass first-time all-pro in 1970 after the AFL-NFL merger.
Otto is considered by most to be one of the greatest centers in the history of the NFL, and he was immediately inducted into the Pro Football Hall of Fame in 1980 at the earliest possible opportunity.