Clinton Portis Continues To Sit At The Top of the List
Published on December 25th, 2021 11:29 am EST
Written By:
Dave Manuel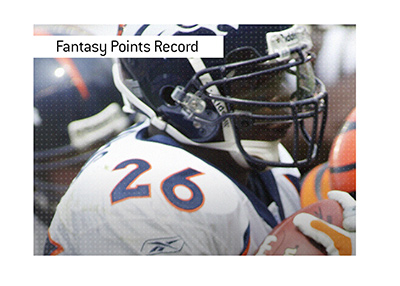 If you had to pick the player who had posted the most fantasy points in a single NFL game, who would you pick off the top of your head?
Michael Vick? Peyton Manning? Jerry Rice? Alvin Kamara? Jamaal Charles?
These would all be great picks, but none of them would be correct.
-
Using 4 point passing TDs, 6 point rushing/receiving TDs, 0.04 points per passing yard and 0.1 rushing/receiving yards, the player with the single greatest single-game performance in NFL history is...
Clinton Portis.
On December 7th, 2003, Portis put up a total of 55.4 fantasy points in a single game, topping the totals put up by the likes of Alvin Kamara, Shaun Alexander and Michael Vick, just to name a few.
-
What made Clinton Portis' December 7th, 2003 performance even more impressive is the fact that he did it against a very good Kansas City Chiefs team, who were 11-2 at the time.
Portis had a very good first half, as he found the endzone twice.
Over a 10 minute span in the second half, however, Portis went off, scoring three longer touchdowns - 28 yards, 53 yards and 59 yards.
Here is Portis' ridiculous stat line from the day:
22 rushing attempts
218 rushing yards
5 rushing touchdowns
2 receptions on 3 targets
36 receiving yards
Add up these numbers and Portis put together a 55.4 point virtuoso performance.
-
Here are the five best single game fantasy football performances of all time (as of year-end 2021):
1. Clinton Portis, December 7th, 2003, 55.4 points
2. Alvin Kamara, December 25th, 2020, 53.2 points
3. Shaun Alexander, September 29th, 2002, 53.1 points
4. Jerry Rice, October 14th, 1990, 52.2 points
5. Corey Dillon, December 4th, 1997, 51.6 points