1985 Chicago Bears Will Be Tough to Top
Published on July 4th, 2022 3:09 pm EST
Written By:
Dave Manuel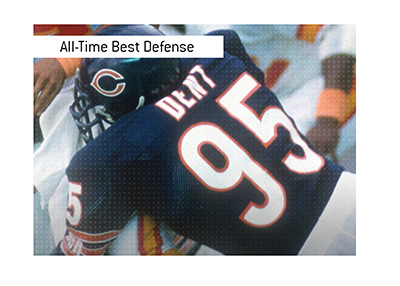 There have been some fantastic defenses over the course of NFL history.
The Lawrence Taylor-led New York Giants. The Steel Curtain. The Purple People Eaters. The Baltimore Ravens' defenses that included Ray Lewis and Ed Reed.
The best defense in the history of the NFL, however, continues to belong to the 1985 Chicago Bears.
What tips the Bears over the edge? Their 1985 post-season run.
Over the course of three playoff games in the 1985 postseason, the Bears allowed 10 points.
TOTAL.
After posting shutouts against the Giants and Rams, the Bears went to the Super Bowl and beat the New England Patriots 46-10.
Over these three playoff games, the Bears allowed 181 yards, 130 yards and 123 yards.
Over these three playoff games, the Bears forced TEN turnovers, including six in the Super Bowl.
In the Super Bowl, the Bears allowed 7 rushing yards and just 116 yards through the air.
-
During their 15-1 regular season, the Bears had five games where they forced five turnovers or more.
In the final game of the regular season, the Bears forced 7 turnovers against the Detroit Lions.
There were only three games over the course of the 1985 regular season when the Bears defense gave up 100 yards or more of rushing.
On the other end of the spectrum, there were four games when the Bears allowed less than 34 yards of rushing.
The Bears had three straight games during the 1985 regular season when they allowed less than 200 yards of total offense.
During this streak, the Bears posted two straight shutouts.
-
The 1985 Chicago Bears defense was led by Richard Dent, who posted a total of 17 sacks and SEVEN forced fumbles.
The defense also included the likes of Mike Singletary, Otis Wilson and William Perry, just to name a few.
-
The 1985 Chicago Bears defense is the best of all time, especially when you consider their postseason run.
Truly an elite, menacing and game-changing defense.