Why Is Money Such an Issue In the Heavyweight Division?
Published on August 7th, 2021 12:53 pm EST
Written By:
Dave Manuel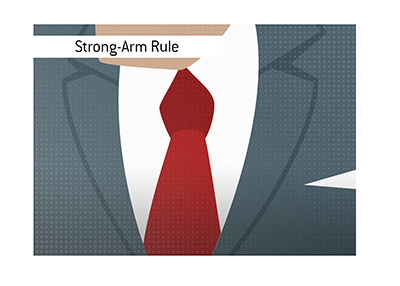 The UFC's Heavyweight division has always been particularly thin when it comes to depth.
At this very moment, the top of the Heavyweight division is absolutely stacked.
Champion Francis Ngannou. Stipe Miocic. Derrick Lewis. Jon "Bones" Jones.
Given all of these big names, why then is Derrick Lewis fighting Ciryl Gane for the interim Heavyweight title? Why aren't Ngannou, Jones or Miocic fighting?
The answer: Money.
The UFC has a GOLD MINE in Francis Ngannou. An imposing physique. Frightening knockout power. An incredible life story. A magnetic personality.
On top of that, Ngannou is obviously very popular in Africa, which is a market that the UFC still wants to fully break into.
So why isn't Ngannou fighting for the belt? Why did the UFC make an interim title fight so quickly, even though Ngannou just fought five months ago?
A few months ago, Ngannou started using his social media outlets to complain about the UFC's pay structure.
The UFC reportedly pays 20% of its revenues to its fighters, and Ngannou wanted to know why this was the case. Why was Jake Paul making tens of millions of dollars, Ngannou wondered, while many UFC fighters had no money?
Stipe Miocic complained about a "lack of respect" from the UFC in the past, and the two sides eventually settled their differences with a new contract.
Jon Jones and the UFC also seem to have a difference of opinion when it comes to how much money the biggest prize fighters in the organization should be making.
See the connection? The Heavyweight division's three biggest names, Ngannou, Jones and Miocic, are all on the sidelines right now. All three have complained about money, and all three are sidelined.
The Ngannou situation is especially ridiculous - apparently he wanted to defend his title soon, but had made plans to travel to his home country of Cameroon during UFC 264.
The UFC needed a headliner, so they decided to make Lewis vs Gane for the interim Heavyweight title.
In short, the UFC was saying to Ngannou - we don't need you. You can sit on the sidelines if you want, and we'll move on.
This also applies to Jon Jones, who was publicly calling for a fight against Francis Ngannou. This is a fight that EVERYONE wants to see, though both fighters (rightly) want to be paid big money.
The UFC hates paying big money for anything, so the organization started to make the case that Jones was asking for "too much money" and that's why the fight wasn't happening.
-
The UFC has shown in the past that they will have no problem strong-arming fighters, especially when it comes to money.
You are a champion and want more money? Fine, we'll make an interim title fight instead.
You are a fighter with increasing buzz and want more money? Fine, we'll say that you "don't want to fight" and move on to somebody else.
-
The UFC does a very good job in keeping fighter costs low - good for them.
The result is painful for fans, however, as instead of Ngannou defending his belt against Lewis or Gane or Jones, we get Lewis vs Gane for the interim title.