Gambler Loses Out on Million Dollar Payday in NHL Shootout
Published on January 6th, 2020 10:15 am EST
Written By:
Dave Manuel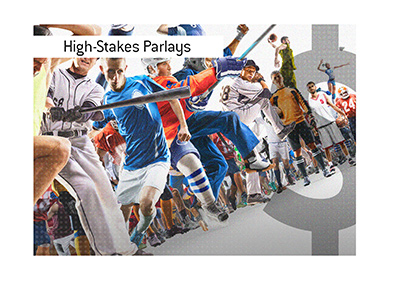 When things are working out for you, parlays are just about the best thing in the world.
When things are going against you, betting on parlays can be one of the world's most single frustrating ventures.
Take Sunday night, for instance.
According to David Payne Purdum (link below), a high-stakes gambler walked into the Borgata on Sunday and wagered over $143,000 on a four-team parlay that consisted of:
1. Seattle Seahawks winning the second half of their game against the Eagles
2. Illinois winning in college basketball
3. Blackhawks winning in the NHL.
4. Nashville Predators beating the Anaheim Ducks.
The total payout for this parlay was set to be a massive $996,553 - not bad for a day's work.
Things started out on the right foot for this gambler, as the Seahawks edged the Eagles 7-6 in the second half of their NFC Wild Card game.
Illinois then proceeded to destroy the Purdue Boilermakers by a score of 63-37.
The Blackhawks then defeated the Detroit Red Wings by a score of 4-2.
This left one game in the way of this high-stakes gambler and his million dollar payday - the Nashville Predators defeating the Anaheim Ducks.
The Ducks are one of the worst teams in the NHL, though they were playing at home. The Predators are only 4 games above .500, so they were anything but a sure thing to win.
Things started off on the wrong foot for our high-stakes gambler, as the Ducks went up 1-0 in the second half of the first period.
The Predators, however, would fight back, and by the 2:59 mark of the second period, would hold a 2-1 lead.
Things went from great to horrible for our parlay player, however, as the Ducks would then reel off three straight goals to make it 4-2 heading into the third period.
Then, a seeming miracle - two goals from the Predators to start the third period, and suddenly the game was tied at 4.
Nothing would change throughout the third period and overtime, so the fate of the million dollar parlay ticket would be in the hands of the shootout.
A great start for the gambler, as the Predators would score the first goal of the shootout.
That would be the last goal that the Predators would score on the night, however, as they watched as both Ondrej Kase and Ryan Getzlaf scored on their shootout attempts to give the Ducks the victory.
-
Let's hope that the parlay bettor was smart enough to get down a hedge before the Ducks/Predators game started.
Source:
David Payne Purdum Twitter