"Shoe Incident" Resulted in NHL Installing Higher Glass Panels in Arenas
Published on July 22nd, 2023 3:11 pm EST
Written By:
Dave Manuel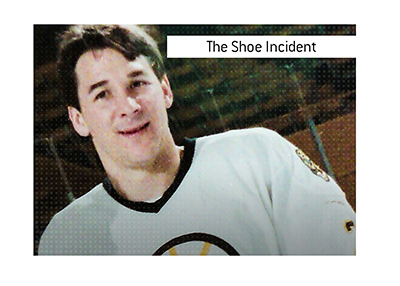 Ask any NHL fan about the "shoe incident" and they will almost certainly know what you are talking about.
"Mad" Mike Milbury was known for his hyper-aggressive playing style. He often found himself in the penalty box, and he was generally an unpleasant player to play against.
Milbury was, however, a very effective player who had no trouble sticking up for his teammates.
-
It was December 23rd, 1979, and the Boston Bruins were on the road to play the New York Rangers.
It was a relatively unremarkable game, though the "shoe incident" would end up changing the NHL forever.
As time ticked down on the game, the Bruins and Rangers were involved in a late-game skirmish. It was nothing too crazy, however, and Mike Milbury went to the dressing room to get an early start on his post-game shower.
That was, however, until a Rangers fan hit Boston Bruin Stan Jonathan with a rolled-up program, cutting his face.
And the fan decided to steal Jonathan's stick as well.
Terry O'Reilly and several other members of the Bruins went into the stands after the fan, and Milbury heard the commotion that was taking place, and rocketed out of the dressing room like a shot.
Milbury went into the stands, where he grabbed the Rangers fan by the leg. The fan's shoe came off.
At this point, Milbury had an idea - beat the fan with his own shoe.
Milbury hit the fan once with the shoe before being pulled off. Milbury decided to make matters worse for the fan by tossing his shoe onto the ice.
At this point, order was restored by security.
-
Terry O'Reilly was suspended for eight games for being the first player to enter the crowd, while Milbury was suspended for 6 games.
In addition, both players were fined $500.
-
The lasting impact of the "shoe incident"?
The NHL opted to install higher panes of glass at arenas in order to help keep fans from getting into scuffles with players.
Or were the panes of glass installed to keep the players out of the crowd?