Michigan's Odds Surge Following Big Win Against Ohio State
Published on November 29th, 2021 1:11 pm EST
Written By:
Dave Manuel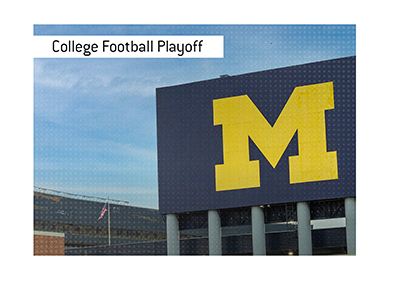 What a difference a week makes.
Prior to this weekend, most people expected #2 ranked Ohio State to do what they always do - hand Michigan a frustrating defeat.
After a close first half of football, the two teams tussled inside of the stadium, and this seemed to result in energizing Michigan, as they came out in the second half and soundly defeated Ohio State.
It was a massive weight lifted off of the program and the coach, and now Michigan appears to be on the fast track for the CFP playoffs.
-
Prior to this past weekend, Michigan was considered a longshot to win the CFP title at +4000.
Let's take a look at the current odds to win the CFP Championship now:
Georgia, -220
Alabama, +650
Michigan, +850
Oklahoma State, +1400
Cincinnati, +1600
Notre Dame, +2500
Ohio State, +10000
Iowa, +10000
As you can see, Michigan's odds to win the CFP Championship moved from +4000 to +850 after just one game, and it's easy to see why.
The team has a great defense and a fantastic running game - while Georgia is clearly the favourite to win, many people see Michigan as having the right combination of offensive attack and positive momentum to give Georgia (clearly the best team in the nation right now) some trouble.
Alabama, on the other hand, seems to be floundering at the worst possible time, as they barely beat Auburn.
-
Assuming that there aren't any big surprises in the title games this coming weekend, the four CFP playoff teams should look like this:
Georgia
Alabama
Michigan
Cincinnati
Cincinnati was the #4 ranked team coming into this past weekend, and they won convincingly, so it's hard to argue that any other team should get in over them.
Georgia, Michigan and Alabama, on the other hand, all seem like clear choices to get a spot, though you could certainly argue against Alabama after their performance this past weekend.