The Greatest Player of All Time Was Taken #3 in the 1984 NBA Draft
Published on July 12th, 2021 2:29 pm EST
Written By:
Dave Manuel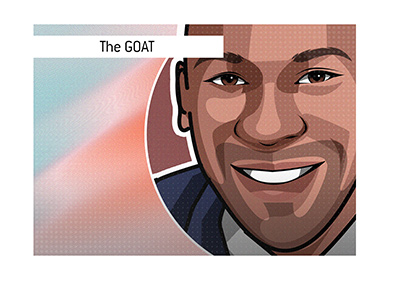 The 1984 NBA Draft was one of the greatest drafts of all time.
Three of the top five picks in the draft ended up joining the Hall of Fame, and one of these three men ended up being the greatest player of all time.
If you new to the game of basketball, you would probably assume that Michael Jordan would have been taken #1 overall in the 1984 NBA Draft.
This wasn't the case.
In fact, the GOAT was taken #3 overall in that draft.
-
Akeem Olajuwon was the #1 overall pick in the 1984 NBA Draft.
Olajuwon is an all-time great, and this was certainly a great pick, regardless of who was taken behind him. Olajuwon finished his career as a 2x NBA champion, a 2x NBA Finals MVP, a 12x NBA All-Star - the list goes on and on.
Olajuwon was worth every bit of the #1 overall pick, and you won't find Houston Rockets fans that are sour about the move. It worked out.
The #2 overall pick in the 1984 NBA Draft, however, will live in infamy forever.
The Portland Trail Blazers had the opportunity to draft Michael Jordan, though they chose Sam Bowie instead.
Trail Blazers fans might want to trash their franchise for not taking Michael Jordan, though the truth of the matter is that the franchise did not have a positional need for MJ, as they had taken Clyde Drexler the year before.
What the franchise did need, however, was a center, and they ended up taking Sam Bowie at #2.
-
Things didn't start poorly for Bowie in Portland - he put in a solid rookie campaign and made the NBA All-Rookie Team.
Things for Bowie went south, however, due to injuries.
The big man suffered broken left tibia in his second season. After returning from that injury, Bowie would break his OTHER leg and was never the same after that.
There have been much bigger busts than Sam Bowie, though he obviously stands out due to who was taken behind him - Michael Jordan.
-
The fact is that the Blazers had a positional need and took Sam Bowie. In hindsight, it's obviously an awful move, though at the time, nobody raised an eyebrow, as nobody was expecting Michael Jordan to become the greatest player of all time.