Michael Jordan Scores 38 Points Despite Suffering From Food Poisoning
Published on April 24th, 2022 2:41 pm EST
Written By:
Dave Manuel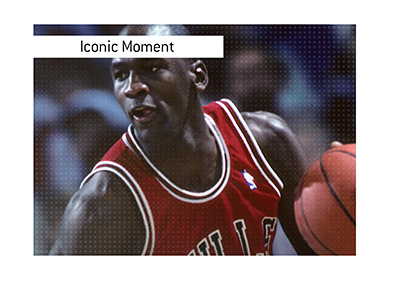 It's June 10th, 1997.
The Chicago Bulls are locked in a battle against Karl Malone and John Stockton in the 1997 NBA Finals.
The series is tied at 2-2 and is heading back to Utah for the crucial Game 5.
It's the night before the game, and Michael Jordan is hungry.
Room service is closed for the night, and after some searching, a local pizza place is found that is still open.
Michael Jordan was hungry and needed to eat, so pizza was ordered and delivered in the early hours of the morning.
The person who retrieved the pizza from the delivery guys (apparently five guys delivered the pizza) said that he had a "bad feeling" about it.
Michael Jordan ate the entire pizza.
An hour later, Michael Jordan called his personal trainer to his hotel room. He was sweating profusely and was curled up into a ball.
Food poisoning.
-
MJ would miss the morning shootaround, as he was rotating between his bed and the toilet, as he spent roughly 24 hours throwing up.
As game time approached, Jordan travelled to the stadium, where he found a quiet, dark room and continued to vomit.
Jordan hadn't slept and hadn't eaten. He was suffering from full-in food poisoning.
A few minutes later, MJ told his coach, Phil Jackson - I'm playing tonight.
-
The broadcasters for the nationally televised Game 5 said that Jordan was suffering from flu-like symptoms, though Jordan would eventually confirm that it was actually food poisoning.
How would Jordan perform with his body drained of food and fluids?
-
The Utah Jazz were practically unbeatable at home, as they were a perfect 10-0 in Utah in the post-season.
Jordan summoned all of his strength and turned in one of his most remarkable performances, leading the Bulls to a dramatic 90-88 victory.
After starting slowly in the game, Jordan found his touch and finished with the following line, despite looking physically awful:
13-27
38 points
7 rebounds
5 assists
3 steals
2-5 from 3-point land
Jordan slumped into his chair during every break in the action and was having trouble keeping fluids in his body.
As the game wore on, Jordan looked like he was about to pass out, as he needed to be physically held up by his teammates at some points of the game.
His teammates, inspired by Jordan's strength, stepped up their games, and helped to lead the team to victory.
Michael Jordan, however, was the sparkplug for the victory, and the Bulls would win Game 6 a few nights later to claim the championship.
-
The "Flu Game" remains one of the most iconic moments in NBA history, but the ironic thing is that it wasn't even a flu that Michael Jordan had - instead, it was simply bad pizza.