Michael Jordan Truly Showed That He Was "Back" Against Knicks
Published on August 1st, 2023 3:23 pm EST
Written By:
Dave Manuel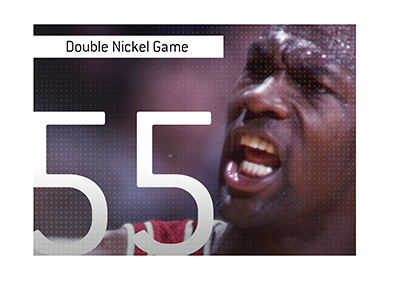 On March 18th, 1995, Michael Jordan (via fax machine) famously announced:
"I'm back."
After a great deal of speculation, Jordan had made it official, returning to the league after an unsuccessful stint as a minor league baseball player.
-
Jordan returned just in time for the playoff run, and he would return to the line-up just two days after announcing his comeback.
The team was still good, and it was assumed that the combo of Michael Jordan and Scottie Pippen would lead the team to another title.
-
When Michael Jordan returned on March 19th, 1995, there was something off.
To start, Jordan was wearing the number #45 instead of his trademark #23.
In addition, Jordan was seemingly very rusty after his time away.
In his first game against the Indiana Pacers, Jordan scored 19 points on an atrocious 7-28 shooting.
In his second and third games, Jordan continued to shoot poorly, going 9-17 and 7-23 from the field, respectively.
In his fourth game back, MJ was starting to look like more of his normal self, scoring 32 points. There was still something missing, however, as Jordan's three-pointer continued to be off.
There were rumblings that maybe Jordan didn't have it anymore. After all, he was 32 years of age and had just taken a full year way from the game.
It's pretty clear, looking back on things, that Jordan was going to use these words as motivation, as he always did.
-
Michael Jordan would absolutely torch the Knicks in his "double nickel" game, scoring 55 points in 39 minutes.
This was the game when MJ would get his three-pointer touch back as well, as he would go 3-4 from beyond the arc.
Jordan would finish 21-37 from the field.
-
All thoughts of MJ having "lost it" were evaporated that night.
While the Bulls would not win the title that year (they would lose to the Orlando Magic in the second round), Jordan would regroup and go on to win three straight titles over the next three years, cementing his status as the greatest player of all time.
For many, the road to Jordan's second "three-peat" started on March 28th, 1995 against the New York Knicks.