Michael Bisping Won The Middleweight Title While Being Legally Blind on One Eye
Published on June 24th, 2022 12:34 pm EST
Written By:
Dave Manuel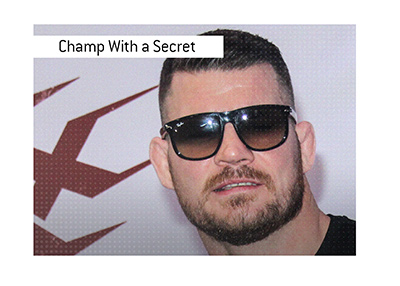 In the lead-up to UFC 199, Michael Bisping had a big secret.
He was blind in one eye.
We are not talking about having poor vision in one eye - no, Bisping had NO vision in his eye, and actually wears a glass eye in his day-to-day life.
So, not only did Bisping take the UFC 199 fight against Luke Rockhold (the champion at the time) on 17 days notice, but he also did it with zero vision in one of his eyes.
And Michael Bisping won.
-
Bisping had had troubles with his eye since 2013.
In January of 2013, Bisping fought Vitor Belfort. Belfort connected with a high kick that detached Bisping's retina.
Bisping was so worried that the injury would cost him his career that he decided not to see a doctor.
Bisping managed to get through his medical tests before subsequent fights, though just barely.
The eye condition was never treated and subsequently got worse and worse, to the point where Bisping lost all function in his eye altogether.
Still, Bisping kept fighting.
-
In 2016, Bisping received a great opportunity - Chris Weidman was pulling out of UFC 199. Would Bisping like to fight the champion, Luke Rockhold, on short notice?
Bisping jumped at the opportunity to avenge a previous loss.
Rockhold laughed at Bisping as a challenger - if Bisping couldn't beat him with a full camp in the past, how would he possibly win the title with just 17 days notice?
-
We all know how the fight went - Bisping caught Rockhold in the first round and knocked him out.
Not only did Bisping win the title on short notice, but he also did it with just one eye!
Bisping would successfully defend his title once before losing to GSP at UFC 217. Bisping did well in the fight before losing via RNC in the third round.
-
Bisping would go on to have one more fight in his UFC career against Kelvin Gastelum.
Bisping would get knocked out and reportedly had issues with his good eye after the fight.
That was enough for Bisping, who officially retired at that point, stating that he didn't want to risk going completely blind.