"Medina Spirit's" Positive Test Throws Racing World Into Turmoil
Published on May 9th, 2021 1:52 pm EST
Written By:
Dave Manuel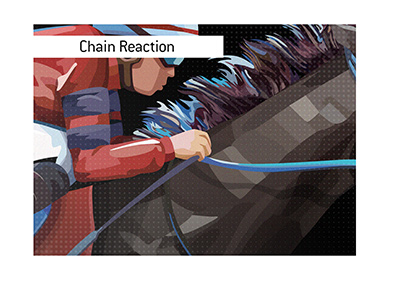 A nightmare scenario for the horse racing world is developing, as Kentucky Derby winner "Medina Spirit" has reportedly tested positive for a banned substance (betamethasone).
This is a nightmare scenario for the horse racing industry. If additional tests for "Medina Spirit" also reveal the presence of the banned substance, the industry will receive a tremendous black eye, as the Kentucky Derby is one of the jewels of the Triple Crown.
In addition, this would throw doubt on Hall of Fame trainer Bob Baffert's previous wins, as he trained American Pharoah and Justify in the past, who both won the Triple Crown. Baffert has trained many horses that have won Triple Crown events.
This positive test would also ruin the Cinderella story of "Medina Spirit", who was purchased for just $1,000 as a yearling.
-
The sports betting industry has been thrown into turmoil as a result of these revelations, as people who bet on the rest of the horses (especially second place finisher "Mandaloun") are spitting mad.
In fact, some very prominent sports bettors are vowing never to bet on horse races ever again - at least until the industry is "cleaned up".
As of this moment, sports books are apparently not planning on reversing the results of the race. So, if you bet on "Medina Spirit" to win, you will likely keep your winnings.
There is no word as to what will happen to people who bet on "Mandaloun", though they will probably be out of luck.
-
The quick proliferation of legal sports betting in the United States has given this story an even bigger spotlight, as so many people put down bets on the race.
This is an absolute mess which could end up finally bringing much-needed change to the industry.