Journey Brown Ran For 720 Yards and 10 Touchdowns
Published on May 19th, 2023 12:56 pm EST
Written By:
Dave Manuel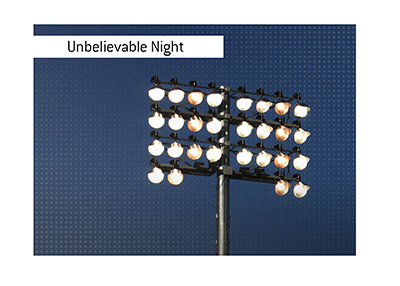 The highest scoring high school football game of all time belongs to a 256-0 game between Haven High School and Sylvia in the 1920s.
The craziest high school football game score of all time?
That likely belongs to a 2015 game between the Meadville Bulldogs and DuBois Beavers.
The final score of that game?
107-90.
-
The scoreboard at the game between Meadville and DuBois couldn't calculate scores into the 100s, so the final score (according to the scoreboard) appeared to be 90-7 for Dubois.
The reality of the situation, however, was that Meadville dropped over 100 on Dubois.
Journey Brown went absolutely nuts in the game, rushing for 720 yards and 10 touchdowns.
In a single game.
Brown was completely unstoppable on the evening, as DuBois was completely run over.
The defenses for both teams took the night off, as nearly 200 points was scored in the shootout.
-
Matt Miller - the starting quarterback for DuBois - threw for 787 yards and 10 touchdowns.
The game, which took 3 1/2 hours to finish, featured nearly 30 touchdowns and almost 2,000 total yards.
Miller's favorite target on the evening was Colin Read, who caught nine passes for 355 yards and three touchdowns.
Meadville had two other backs that posted big nights as well - Antonio Ferraro ran for 160 yards and three touchdowns, and Caleb Bish ran for 91 yards and 2 touchdowns.
It was an absolutely unbelievable night - one that may never be topped.
-
Journey Brown would go to Penn State, where he would be named the MVP of the 2019 Cotton Bowl after rushing for 202 yards.
Brown's promising football career would be cut short early after he was diagnosed with hypertrophic cardiomyopathy.