Conor McGregor Just a 4/1 Underdog To Defeat Floyd Mayweather
Published on July 5th, 2017 4:20 pm EST
Written By:
Dave Manuel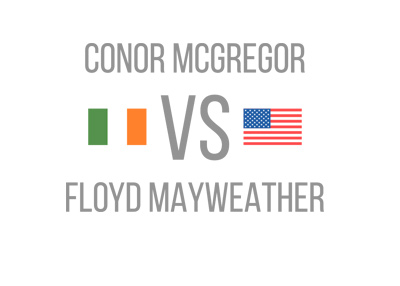 When the possibility of a Conor McGregor vs Floyd Mayweather boxing match was first teased, some oddsmakers had McGregor at as much as a 25/1 underdog to win.
After all, while McGregor is a multiple division title holder in the UFC, Floyd Mayweather is likely the best boxer to ever do it, compiling a 49-0 record over a lifetime of big bouts. Mayweather is considered the best defensive boxer of all time, and his style should give a fighter like Conor McGregor absolute fits.
That hasn't stopped Conor McGregor's supporters, however, as they have driven down the odds of McGregor winning to just 4/1 at some major sports books.
I like Conor McGregor, but that is just insane.
Somebody made the analogy that Conor McGregor boxing Floyd Mayweather is like Michael Phelps having a 100m freestyle swimming race against a water polo player. They both make their livings in the water, though Phelps has spent his entire career swimming for speed and has been winning medals as he has done it.
Mayweather vs McGregor is largely the same thing - McGregor is a fighter but not a boxer. Mayweather is a boxer and likely the best boxer to have ever lived. The disparity in their talent will become apparent in August.
-
Does this mean that McGregor has no chance of winning? He has a puncher's chance - no question.
Does this mean, however, that McGregor should win the fight 1 out of every 5 times that he steps into the ring against Mayweather? Of course not, though this is what the odds are saying. McGregor has a chance of winning, though his chances are likely better off being priced in the 1-2% range, rather than the 20% range.
Sure, Mayweather is older, doesn't like fighting lefties and hasn't fought in a while. On the other hand, this is FLOYD MAYWEATHER, a man who has beaten Oscar De La Hoya, Canelo Alvarez and a host of other top talents.
McGregor has never boxed professionally in his life and is going against likely the best of all time. I would tread carefully if you are looking to back McGregor in this bout.