Nurmagomedov Massive Favourite To Defeat Max Holloway
Published on April 2nd, 2018 5:37 pm EST
Written By:
Dave Manuel
Click Here To Bet on Holloway vs Nurmagomedov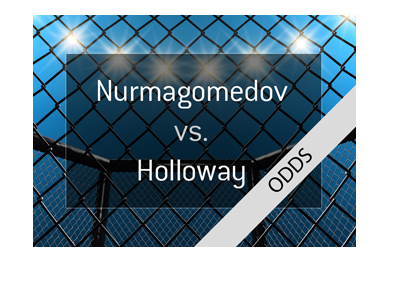 Tony Ferguson vs Khabib Nurmagomedov is officially cursed.
Earlier this week, UFC President Dana White revealed that Tony Ferguson had suffered an injury to his knee in a freak accident and would be forced to miss his upcoming main event fight against Khabib Nurmagomedov. The injury was crushing to Ferguson, as the winner of Ferguson/Khabib almost certainly would have gotten a big money fight against Conor McGregor later in the year.
Dana White also revealed that Featherweight champion Max Holloway had accepted the opportunity to fight Khabib, which means that Holloway could become an active two weight champion with a win on Saturday night, as the fight will be for the "official" 155 pound title.
To say that Holloway has his work cut out for him would be an understatement. Khabib is undefeated and is known for throwing his opponents all around the Octagon. Holloway, who fights at a smaller weight division, will almost certainly be giving up a ton of weight when he steps into the Octagon on Saturday night.
For Holloway, there is really no downside for him in this fight. Most expect him to lose, though he will likely benefit greatly from saving this card. Also, if he manages to pull off the victory against Khabib on Saturday night, he instantly becomes a legend and would earn himself a massive amount of money in a fight against Conor McGregor.
In reality, this is a win/win situation for the UFC, as both Holloway and Khabib will be compelling fights for Conor McGregor later in the year.
-
Bovada has released odds for Holloway/Nurmagomedov - here they are as of this moment:
Khabib Nurmagomedov, -550
Max Holloway, +375
Holloway is currently listed as high as +400 depending on the sports book that you are viewing.
Khabib's path to victory is fairly simple - take down the smaller Holloway and look to smash him from top position. Holloway has proven to have very effective takedown defense, though Khabib's wrestling is on another level.
For Holloway, the Featherweight champion needs to keep the fight standing and wear down Khabib with his volume striking. It seems hard to imagine Holloway stopping Khabib in the early rounds of the fight, so Holloway's best chance would seem to be taking the fight to the championship rounds and eventually stopping Khabib that way.
-
While Khabib certainly has the major edge in this fight, Holloway is probably the best possible replacement that the UFC could have produced on just six days notice.
This should be a pretty interesting fight.