Matt Nagy Continues To Lead The Way, Though Urban Meyer Gaining
Published on December 11th, 2021 11:44 am EST
Written By:
Dave Manuel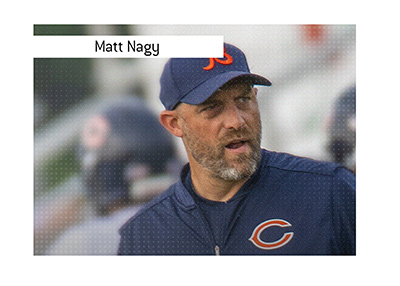 There are three NFL coaches that are absolutely on the hot seat right now.
They are:
Matt Nagy
Mike Zimmer
Urban Meyer
As of this moment, here are the current betting odds as to which coach will leave or be fired next:
Matt Nagy, +200
Mike Zimmer, +500
Urban Meyer, +600
The Matt Nagy era seems like it is about to come to an end in Chicago.
The team's main woes lie in its offense, as the team has a number of solid offensive weapons though has never been able to make things click under Nagy.
A team that includes weapons like Justin Fields, Allen Robinson and David Montgomery should be able to produce much more, and this is the main reason why Nagy's future is so fragile in Chicago.
The fans seem to be ready for a change as well, which is a big reason why Nagy has the best odds to be fired next.
Mike Zimmer will likely take the fall for the team's underperformance in Minnesota.
Sure, Kirk Cousins is a big reason as well, though it's easier to change the coach rather than the starting quarterback.
Zimmer may have temporarily saved his job after the Vikings held off the Steelers on Monday Night Football, though the team very nearly gave that game away as well.
Zimmer will very likely not be with the Vikings next season, though he doesn't have the best odds to be fired next and will likely finish out the season at this point.
Urban Meyer is certainly interesting at +600, as the Jaguars now seem to be in full revolt, despite the fact that Meyer has coached just 12 games.
Usually coaches will get a couple of years to prove their worth, though Meyer's tenure in Jacksonville has been remarkable chaotic, and now players are openly questioning the coach's decisions.
The team seems to be publicly giving up on him, and I wouldn't be surprised at all if he doesn't come back next year, let alone survive the season.
-
In short - Matt Nagy seems to be in the "driver's seat" to get let go first, though Urban Meyer is seemingly coming on strong.