March Madness 2019 Preview: Auburn v Virginia, Texas Tech v Michigan State Set For Semi-Finals
Published on April 6th, 2019 12:49 pm EST
Written By:
Dave Manuel
Click Here To Bet on March Madness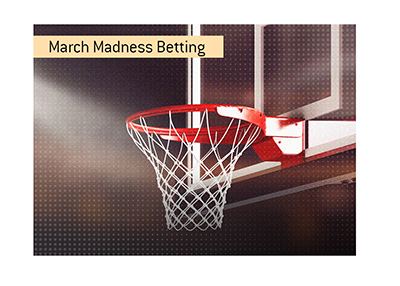 There is a reason why nobody is ever able to correctly predict the March Madness "bracket" every year.
Without fail, top-seeded teams fall, leaving teams like Auburn and Texas Tech to play for all of the glory. Top teams like Duke, Gonzaga and others bowed out early in the tournament, leaving Auburn, Virginia, Texas Tech and Michigan State to battle for all of the glory.
Nobody would argue that Virginia and Michigan State aren't the two best teams remaining in the tournament. In a normal world, the finals of the NCAA tournament would be those two teams squaring off against each other.
This is "March Madness", however, where absolutely anything can happen.
Of the two semi-final match-ups, Virginia is the biggest favourite, as they have a six point edge over Auburn.
Virginia finished the season as the #2 team in the nation behind Duke, as Virginia managed to finish with a record of 33-3, including a very impressive 10-1 record on the road. Virginia knows how to win when they are not at home.
Michigan State, on the other hand, finished as the #5 team in the nation, compiling a record of 32-6 in the regular season. Michigan State was not nearly as good on the road, as they finished the year with an away record of 8-4, though they were one of college basketball's hottest teams at the end of the season. In basketball, momentum is everything, and Michigan State has it right now, to be sure.
Texas Tech finished the regular season as the #9 team in the nation, while Auburn was the #14 team.
-
Let's take a look at the odds for both of the semi-final games, courtesy of Bet365:
Source: Bet365
Time Stamp:
April 6th, 2019 11:47 am EST
Odds Subject to Change
Auburn, +6, 1.90
Virginia, -6, 1.90
Over 131.5 points, 1.90
Under 131.5 points, 1.90
Auburn Straight Up, 3.40
Virginia Straight Up, 1.33
-
Texas Tech, +2.5, 1.90
Michigan State, -2.5, 1.90
Over 132 points, 1.90
Under 132 points, 1.90
Texas Tech to Win Straight Up, 2.25
Michigan State to Win Straight Up, 1.68
-
Finally, here are the outright betting odds to win the tournament:
Virginia, 2.25
Michigan State, 2.80
Texas Tech, 5.25
Auburn, 7.50