Clippers Comeback Remains The Biggest in NBA Postseason History
Published on April 23rd, 2023 6:11 pm EST
Written By:
Dave Manuel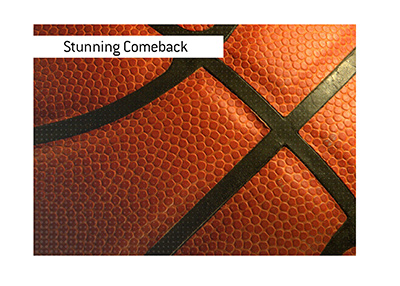 It seems almost ridiculous to even contemplate.
On April 15th, 2019, the Los Angeles Clippers completed the greatest comeback in NBA playoff history.
The Clippers, who had been destroyed in Game 1 of their Western Conference series against the Golden State Warriors, were down by 31 points with just 20 minutes left in Game 2.
There was absolutely no reason to think that the Warriors were in any danger in the game.
After all, the Warriors had a starting lineup that included Kevin Durant, Steph Curry, Klay Thompson and DeMarcus Cousins.
In addition, the Warriors were playing in front of their home fans.
How could they possibly lose?
-
With 8 minutes left in the third quarter and the Warriors up 31, the Clippers went to work, while the Warriors went to sleep.
Led by Montrezl Harrell and Lou Williams, two bench players, the Clippers outscored the Warriors 85-58 in the second half to win the game, 135-131.
This was the biggest comeback in NBA playoff history.
The comeback was so bizarre, as the Warriors were so loaded with talent and playoff experience, while the Clippers had a bunch of players that you couldn't possibly classify as superstars.
The Warriors weren't able to pull things together, and they just keep missing shot after shot.
Meanwhile, the Clippers, with nothing to lose, played with reckless abandon and blew the Warriors out of their own arena.
-
The Warriors would go on to blow out the Clippers in Games 3 and 4, before eventually winning the series in 6 games.
Game 2 of the series will continue to be one of the most bizarre games in the history of the NBA, as it is unusual when such a good team falls apart so completely.