Chicago Cardinals Hold Record With 29 Game Losing Streak
Published on July 8th, 2022 12:07 pm EST
Written By:
Dave Manuel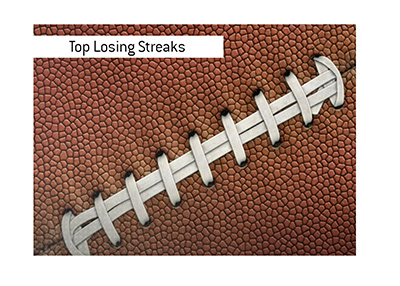 The longest losing streak in the history of the NFL belongs to the Chicago Cardinals, who lost a total of 29 games over a stretch that spanned four seasons (1942-1945).
The Chicago Cardinals were colossally bad during the mid 1940s, posting records of 3-8, 0-10, 0-10 and 1-9 over the course of four seasons.
The 29 game losing streak started on October 25th, 1942, when the Cardinals lost 7-3 to the Cleveland Rams.
The losing streak would end on October 14th, 1945, when the Cardinals defeated the Chicago Bears 16-7.
-
The second longest losing streak belongs to the Tampa Bay Buccaneers, who lost 26 games in a row in 1976 and 1977.
The Bucs were an egregiously bad expansion team, and their losing streak stretched from September 12th, 1976 to December 11th, 1977.
-
The longest losing streak in the "modern NFL era" belongs to the Jacksonville Jaguars, who lost 20 straight games between September 20th, 2020 and October 17th, 2021.
That losing streak would finally come to an end after the Jaguars defeated the Miami Dolphins by a score of 23-20.
-
Here are the top five losing streaks in the history of the NFL:
1. Chicago Cardinals, 29 games (1942-1945)
2. Tampa Bay Buccaneers, 26 games (1976-1977)
3. Jacksonville Jaguars, 20 games (2020-2021)
4. Oakland Raiders, 19 games (1961-1962)
5. Detroit Lions, 19 games (2007-2009)