Game Between Indianapolis Olympians and Rochester Royals Lasted Six Overtimes
Published on August 14th, 2023 3:36 pm EST
Written By:
Dave Manuel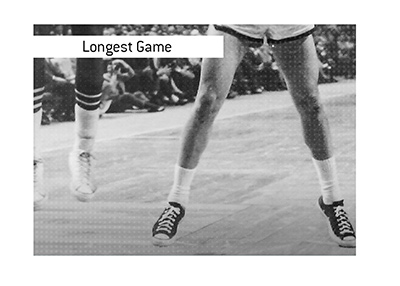 In this day and age, extremely long NBA games are becoming more and more rare, largely due to the number of points that are scored in the modern era.
With both teams putting up bigger point totals, the odds of being tied at the end of 1, 2 or even 3 overtime periods drops dramatically.
-
On January 6th, 1951, the 16-16 Indianapolis Olympians travelled to Rochester to take on the 19-11 Royals.
Little did the people in attendance know that they were about to witness basketball history.
After Indianapolis opened up a 10 point lead after the first quarter, Rochester stormed back, and the game was tied 65-65 heading into overtime.
At this point, the two teams really stepped up their defensive play, as both teams managed to score just four points over the next four overtime periods!
Heading into the fifth overtime, the game was tied 69-69.
The fifth overtime saw a bit higher offensive output, with both teams scoring 4 points a piece.
The game was still tied at the end of the fifth overtime, however, though the game would be decided in the sixth overtime.
-
A single basket would be scored in the sixth overtime by the Indianapolis Olympians, which was enough to give them the win.
Final score? 75-73 Indianapolis.
-
In the end, the game between Indianapolis and Rochester in 1951 was super sloppy and likely not much fun to be at.
Indianapolis shot just 39.5% from the floor in the game, while Rochester shot 38.8%.
Both teams quickly faded when overtime started, and the fans in attendance were likely looking at their watches, wondering when the game was finally going to end so they could be put out of their misery.