Leon Lett Will Forever Be Known For Two Major Mistakes
Published on November 25th, 2021 1:56 pm EST
Written By:
Dave Manuel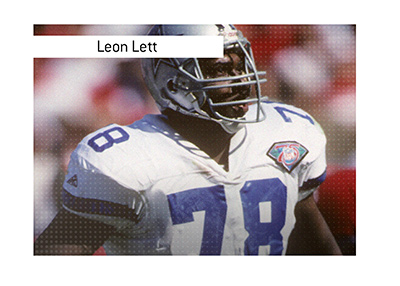 Leon Lett was a really good football player, and now he is enjoying life as an assistant defensive line coach with the Dallas Cowboys.
Lett won three Super Bowls and went to the Pro Bowl twice, though he will likely be forever known for committing two massive blunders, one of which took place during a Thanksgiving game, when the entire world was watching.
-
Let's set the stage for Leon Lett's Thanksgiving Day blunder, which took place in 1993.
The game featured two of the best teams in the league - the 7-3 Dallas Cowboys, who were the defending Super Bowl champions, against the 8-2 Miami Dolphins.
The weather in Dallas was atrocious that day, as a rare snow storm hit the area. This created some interesting situations over the course of the game, and would eventually contribute to Lett's monumental gaffe.
-
The Cowboys were leading the game 14-13, though the Dolphins were driving down the field.
There was just 15 seconds left in the game when Miami kicker Pete Stoyanovich lined up to attempt a 41-yard field goal.
The Dallas Cowboys would block the field goal attempt, and the ball came to a stop a few yards removed from the line of scrimmage.
Let's visit the NFL's rules when it comes to blocked field goals.
If a blocked field goal crosses the line of scrimmage, ONLY the defense can advance the ball.
If the defense attempts to retrieve the ball and muffs or fumbles it, the offense can then advance the football.
In short - all Dallas had to do was not touch the ball and the game was over.
-
Much to the shock of everyone, Leon Lett came motoring in and attempting to collect the football.
Due to the icy conditions, Lett slipped and made contact with the football.
At this point, since Lett touched the football, the ball was LIVE and available for the offense to recover.
The Dolphins would recover the ball in the end zone, and possession would be awarded to them at the 1-yard line.
Stoyanovich would re-appear in the game and make the easy chip shot field goal to give the Dolphins the 16-14 victory.
-
Things didn't work out badly for the Cowboys that season, and everyone involved can have a good laugh about it now.
The Cowboys would finish the rest of the season by not losing a regular season game, and would eventually go on to win another Super Bowl.
Lett would enjoy a decade plus career in the NFL before earning his degree from UNLV and returning to the NFL as a coach.
There is still no doubt, however, that Lett's Thanksgiving Day gaffe was one of the worst in NFL history.