December 3rd, 2003 Game Against Los Angeles Clippers Was An Unmitigated Disaster
Published on February 18th, 2023 3:14 pm EST
Written By:
Dave Manuel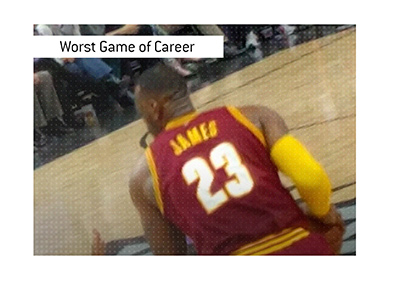 LeBron James is currently in the midst of a double-digit scoring streak that has stretched for well over 1,100 games.
This means that he hasn't had many terrible games over the course of his career.
To find the King's worst ever game, we need to look to the first few years of his career, when he was obviously very good but much more inconsistent.
-
People will point to James' lowest ever point total - 3 points against the Houston Rockets on December 29th, 2004 - as his worst ever game, but that wasn't his worst game.
After all, LeBron played just 17 minutes in that game.
LeBron's worst game, in fact, came on December 3rd, 2003, when the Cavaliers travelled to Los Angeles to take on the Clippers.
-
LeBron played 34 minutes that night, managing just 4 points.
Some of the numbers were pretty good - 6 rebounds and 8 assists, as well as 2 steals.
The rest of LeBron's numbers on that night, however, were horrific, as he committed 5 turnovers, shot a shockingly bad 2-13 from the field and missed all three of his three-pointer attempts.
The Cavaliers were putrid that evening, falling 90-80 to the lowly Los Angeles Clippers, who were 6-8 heading into the contest.
LeBron was terrible that night, perhaps in awe of playing in Los Angeles for the very first time. The rest of the Cavaliers followed, as the team shot less than 39% from the field.
-
LeBron has had a microscopic number of "bad" games over the course of his career - after all, he has scored less than 10 points in just 8 lifetime games.
December 3rd, 2003, however, was easily the worst single game of LeBron's professional career. Given how consistent LeBron is in this day and age, it's hard to imagine the "King" posting just 4 points in a single game.