LeBron's Record Will Likely Remain Intact For Many Years To Come
Published on February 14th, 2023 2:26 pm EST
Written By:
Dave Manuel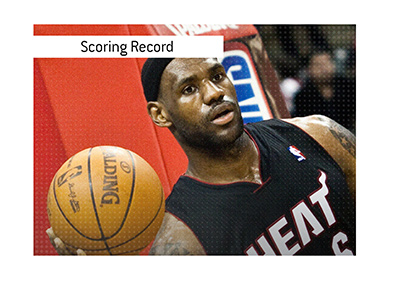 Late last week, LeBron James broke one of the "unbreakable" records in sports - Kareem Abdul-Jabbar's NBA points record.
As of this moment, LeBron James has 38,390 points over a total of 1,410 games played.
The closest active player is Kevin Durant, who currently has a total of 26,684 points.
The question becomes - do any current NBA players have a chance of breaking LeBron's record?
The answer, in our opinion, is no, based on the reasons listed below:
1.
LeBron is Still Playing at a High Level.
How many years does LeBron James have left in him?
"The King" is still playing at a very high level and has mentioned the possibility of playing with his son one day, who is still in high school.
LeBron is 38 years old but is still relatively healthy.
Assuming that LeBron plays for another three seasons after this one, you can safely assume that he will add another 4,800-5,000+ points, which would bring his lifetime total to over 43,000 points.
In short, LeBron is tacking on points to an already "unbreakable" record.
2.
Durability.
LeBron James has been in the league for 20 seasons and has missed a shockingly small amount of time due to injuries.
In fact, it wasn't until the 2018-19 NBA season when LeBron James suffered the first major injury of his career - a groin injury that kept him out for a considerable period of time.
It seems hard to believe that anybody else would have the same type of durability that LeBron has had over the course of his career.
In order to have a chance of breaking LeBron's record, a player would need to play a 20+ year career with essentially zero injuries.
Is it possible?
3.
Consistently Strong Results Over Time.
Who is the greatest potential challenger to LeBron's record? The answer would have to be Luka Doncic, who is currently averaging around 27.4 points per game through the start of his young career.
This compares to 27.23 points per game for LeBron.
So, the relatively young Doncic is tracking to catch LeBron, but we have to circle back to the second point - can Doncic remain healthy throughout the course of his career? Can he avoid major injuries?
Will he want to play into his 40s?
In order to break LeBron's record, a player will need to largely avoid injury while also choosing to play into their 40s, while ALSO playing at a supremely high level, well into their late 30s.
-
With the NBA salary cap soaring, a player such as Luka Doncic may end up making nearly $1 billion in total salary over the course of their careers.
Will they have the motivation to play into their 40s? Will they be able to avoid injury? Will they be as consistent as LeBron James has been? Will they spend the time and money to maintain their bodies as LeBron has?
It's really, really hard to see anybody breaking LeBron's record in our lifetimes, especially if he decides to keep playing well into his 40s.