Can Lakers Sign Kawhi Leonard To a Deal?
Published on July 1st, 2019 5:30 pm EST
Written By:
Dave Manuel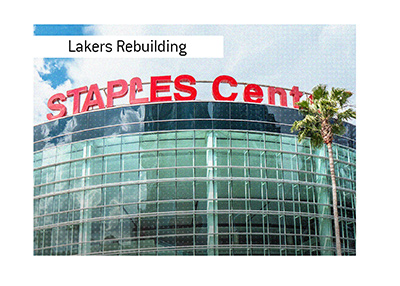 According to multiple published reports, the Los Angeles Lakers have a very good chance of signing Kawhi Leonard to a deal.
If Leonard does go to the Lakers, this would create arguably the greatest "Big 3" of all time - Lebron James, Anthony Davis and Kawhi Leonard.
Sure, there would be major issues with that type of a line-up - for instance, the team would have to be filled out with 10 minimum contracts, including Kyle Kuzma.
Though, if this Big 3 did stay healthy, they would be practically unbeatable. This would be the best front court of all time in the history of the NBA, bar none.
This is not a done deal yet, however, and Kawhi could still jump to the Clippers, Raptors or Lakers.
Whispers of a potential Kawhi deal have sent the Lakers' odds to win the title ever lower.
In fact, if this deal does get completed, the Lakers would have odds similar to the Golden State Warriors the past years.
The Lakers' odds would be dramatically improved by the fact that the Golden State Warriors will be a shell of their former selves this season, as they will have to deal with the loss of Kevin Durant and the season ending injury to Klay Thompson.
-
Even without Kawhi Leonard signed, the Lakers are the clear favourites to win this upcoming season. Let's look at the current betting odds for the top 5 clubs:
Los Angeles Lakers, +260
Milwaukee Bucks, +700
Toronto Raptors, +700
Houston Rockets, +900
Philadelphia 76ers, +1000
The Los Angeles Clippers are intriguing at +1300, as they could potentially sign KL and Danny Green to a deal.
-
If Leonard goes to any team other than the Lakers, the league parity will arguably be at its highest level ever.
If Leonard goes to the Lakers, they will be the new super-team and will be extremely tough to beat, barring injury.