Kobe Bryant Was Part of Jerry West's Master Plan
Published on August 21st, 2022 3:13 pm EST
Written By:
Dave Manuel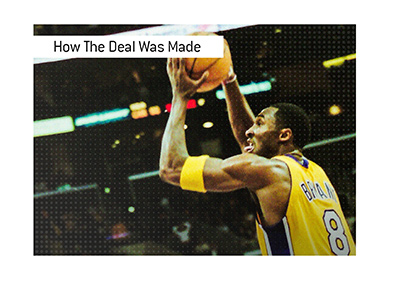 "I don't want to be traded to Charlotte."
These words from Vlade Divac threatened Jerry West's master plan.
A master plan that would pair Shaquille O'Neal and Kobe Bryant in Los Angeles.
Vlade Divac was threatening to retire if he was traded from Los Angeles to Charlotte, and one of the NBA's great future dynasties was in danger of never happening.
-
Entering the 1996 offseason, Jerry West and the Los Angeles Lakers had two goals:
1) Sign Shaquille O'Neal in free agency.
2) Acquire Kobe Bryant.
The problem?
In order to accomplish these two things, they needed to move Vlade Divac off their books, and they had to hope that Kobe Bryant slid down the draft ladder, in order to make his first contract cheaper.
The Lakers picked #24 in the 1996 NBA Draft, and there is no way that Kobe would have fallen that far.
In order to have the best chance of acquiring Kobe, the Lakers were hoping that he would fall to Charlotte at #13.
Charlotte had a clear need for a center, and they had no need for another shooting guard (in fact, Kobe would mention this in a Tweet, saying that Charlotte told him that they didn't want him).
So, the Lakers hoped that Kobe would fall to #13, they hoped that the Hornets would draft him, and they hoped that the Hornets would trade him away.
-
According to multiple media reports, Kobe Bryant and his agent made him as unappetizing as possible to the teams that picked between #1 and #12.
This included skipping workouts and other things that would make teams second-guess taking the high school player.
In addition, Kobe was fresh out of high school, and many teams were apprehensive about taking such a young player.
On top of that, some very good players were also available in the draft, including Allen Iverson, Shareef Adbur-Rahim and Ray Allen.
The big question mark was the New Jersey Nets at #8. They elected to take Kerry Kittles instead of Kobe, and the rest fell into place, as the teams picking between #9 and #12 had no need for a young shooting guard.
The Hornets would take Kobe at #13, bringing the Lakers closer to landing their guy.
-
A trade was proposed between the Hornets and Lakers:
Vlade Divac for Kobe Bryant
The problem?
Vlade Divac loved Los Angeles, and Los Angeles loved him.
Divac threatened to retire if he was traded to Charlotte, and the Hornets would not complete the deal unless they received a guarantee from Divac that he would continue to play.
The Hornets needed a center, and Divac fit the bill.
-
After weeks of tension between the two sides, Divac finally decided that the trade was best for the Lakers, and he accepted and promised that he would play for the Hornets.
Kobe Bryant was now a Laker, and Divac was a Hornet.
The Lakers also signed Shaquille O'Neal and traded for Robert Horry, putting in the foundation for the dynasty that would win multiple titles.
Despite being fresh out of high school, the Lakers believed in Kobe's talents, and they were proven right.
-
Vlade Divac had the power to stop the Kobe Bryant deal, but he finally relented and the rest is history.