Khabib Has Only Been The Underdog Once In the UFC
Published on October 22nd, 2020 8:58 am EST
Written By:
Dave Manuel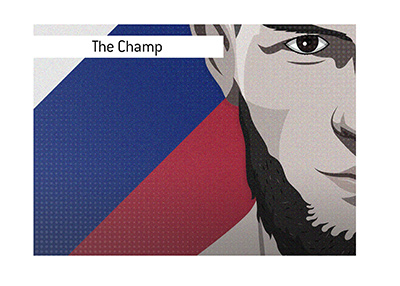 Khabib Nurmagomedov is arguably the most dominant UFC champion of all time.
In fact, Khabib has arguably only lost ONE round while fighting in the UFC, and that likely came in the third round of his epic bout against Conor McGregor. This level of dominance puts Khabib in the same stratosphere as the likes of Georges St. Pierre and Anderson "The Spider" Silva, who also rarely lost rounds in their championship fights.
Khabib's perfect 28-0 record is well-known.
What is not as well known, however, is Khabib's odds history in the UFC.
For instance, did you know that Khabib was actually an underdog in one of his UFC fights? It seems almost impossible to comprehend now, though it's true.
In fact, Khabib opened as the betting underdog TWICE in the UFC, though in his fight UFC fight, he ended up as a slight favourite by the time that he hit the Octagon.
-
In his very first UFC fight against Kamal Shalorus, Khabib opened at +100 before finishing as a -105 favourite.
In his second fight against the tough Gleison Tibau, Khabib ended as a +135 underdog.
Of course, Khabib won both of these fights.
After these two fights, Khabib was lined up against another very tough opponent in the form of Thiago Tavares. Khabib would finish as the -210 betting favourite, and once again he would win.
At this point, the betting world was still to come to the realization that Khabib was something special, and the odds reflected that. Khabib would end up as sizeable favourites against the likes of Pat Healy, Darrell Horcher and Michael Johnson, to name a few.
The next time that Khabib would have relatively close odds would be his epic title fight against Conor McGregor, where he opened as a -165 favourite. Khabib would "smesh" in that fight as well, besting McGregor in the fourth round.
Khabib was a big favourite against Dustin Poirier, easily besting his Lightweight challenger.
For his title fight against Justin Gaethje, Khabib is also a big favourite, as the betting world believes that Khabib's wrestling will simply be too much for Gaethje.
-
Here are the opening odds for all of Khabib's UFC fights:
Khabib Nurmagomedov, +100
Kamal Shalorus, -130
Khabib Nurmagomedov, +135
Gleison Tibau, -165
Khabib Nurmagomedov, -150
Thiago Tavares, +110
Khabib Nurmagomedov, -350
Abel Trujillo, +250
Khabib Nurmagomedov, -260
Pat Healy, +180
Khabib Nurmagomedov, -175
Rafael Dos Anjos, +135
Khabib Nurmagomedov, -705
Darrell Horcher, +435
Khabib Nurmagomedov, -370
Michael Johnson, +285
Khabib Nurmagomedov, -260
Edson Barboza, +180
Khabib Nurmagomedov, -1050
Al Iaquinta, +550
Khabib Nurmagomedov, -165
Conor McGregor, +135
Khabib Nurmagomedov, -240
Dustin Poirier, +205
Khabib Nurmagomedov, -350
Justin Gaethje, +285