Nurmagomedov Currently Listed at -180 To Defeat McGregor
Published on April 10th, 2018 12:00 am EST
Written By:
Dave Manuel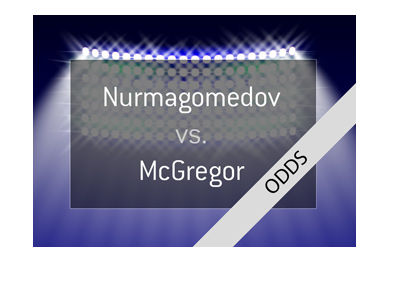 UFC 223 was an absolutely crazy event, mainly thanks to the antics of former Lightweight champion Conor McGregor.
Khabib Nurmagomedov was crowned Lightweight champion after defeating Al Iaquinta in the main event. Iaquinta took a spot that was formerly occupied by Tony Ferguson and Max Holloway, both of whom had to pull out due to different reasons.
Conor McGregor, who was stripped of his Lightweight title, spent most of the weekend in jail after attacking the bus that Khabib Nurmagomedov was on. The promotional wheels are already turning for the fight, however, as UFC President Dana White is already softening his stance towards McGregor. If practically any other fighter in the UFC had done what McGregor did, they would be gone. Fortunately for McGregor, Dana White and the UFC see dollar signs in a fight between McGregor and Khabib, which is why he is still with the organization.
There is little doubt that Khabib vs McGregor would be the biggest fight in the history of the promotion, with the event likely to bring in more than 2 million buys, especially given the rising popularity of Nurmagomedov. There is obviously plenty of backstory between the two fighters, and the PPV would sell itself.
McGregor has said that he wants to fight again soon - might we see Khabib vs McGregor before the year is out? Ferguson vs Khabib is also a possibility, though the UFC has tried four times to put that fight together. No, the time is now for the McGregor/Khabib fight, as the heat between the two will never be hotter.
-
There is no doubt that Khabib is likely the most dominant fighter in the entire UFC. The issue, though, is that he has notable flaws, mainly in his stand-up, which is obviously McGregor's strength.
On the other hand, Khabib has made short work of strikers, including a lopsided beatdown of Edson Barboza.
This would certainly be a fascinating fight featuring two distinctive styles. Could Khabib withstand McGregor's striking and power? Could McGregor avoid Khabib's takedowns?
-
Let's take a look at the odds for this fight as of this moment, courtesy of a Las Vegas sports book:
Conor McGregor, +160
Khabib Nurmagomedov, -180
As you can see, Khabib is the current favourite to win this fight, though it is certainly not being a sure thing.
-
Will this fight ever happen? Given the amount of money involved, the answer is almost certainly yes.