Green Bay Packers Shocked The World By Taking Jordan Love in First Round
Published on November 2nd, 2022 12:36 pm EST
Written By:
Dave Manuel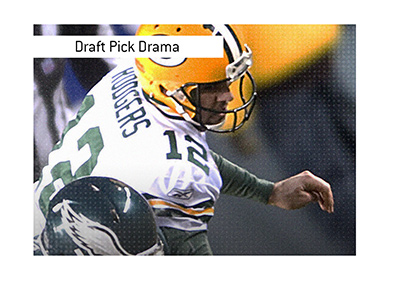 Was Jordan Love the worst draft pick of all time?
Absolutely not - that is reserved for the likes of Ryan Leaf and JaMarcus Russell.
Was Jordan Love, however, the most INDEFENSIBLE draft pick of all time?
Almost certainly.
-
It was the 2020 NFL Draft, and the Green Bay Packers were on the clock with the #26 pick in the first round.
The Green Bay Packers certainly had some needs that they wanted to fill.
Would the team finally use a first-round pick on some more offensive help for Aaron Rodgers? The likes of Tee Higgins and Michael Pittman, Jr. were available.
Offensive tackle?
Instead, the Green Bay Packers shocked the world (and infuriated Aaron Rodgers) by selecting Jordan Love with the #26 overall pick.
Jordan Love - the seeming heir apparent to Aaron Rodgers, the starting quarterback for the Green Bay Packers who had just won the MVP award for the third time in his career.
Aaron Rodgers, who had just thrown for
48
touchdowns in a single season.
Aaron Rodgers, who had just turned 37 years old and seemingly had 4-5 good years left in him.
-
Green Bay Packers' fans were outraged, as was Aaron Rodgers.
The pick was so egregious, in fact, that Aaron Rodgers seemed like he was done with the Packers.
After famously doing everything that they could to avoid drafting offensive talent in the first round of the draft, the Packers seemed to make the ultimate gaffe - drafting Aaron Rodgers' replacement.
The ultimate slap to the face.
Instead of the Packers gearing up for a run at the Super Bowl, one bad move by management nearly resulted in the entire thing blowing up, while Rodgers was playing the best football of his career.
-
As Aaron Rodgers continues to grumble about the state of the Packers offense, you can't help but wonder how much somebody like a Tee Higgins could be helping things right now.
Instead, Jordan Love remains buried on the bench, where he will likely remain until the Packers cut ties with him.
Jordan Love remains one of the most indefensible draft picks in the history of the NFL.