Jon Jones is Betting Favourite To Win This Potential Match-Up - Though Just Barely
Published on February 5th, 2020 5:35 pm EST
Written By:
Dave Manuel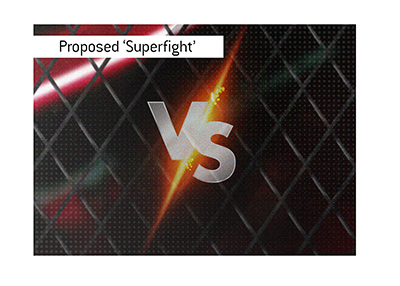 One of the proposed "superfights" that has UFC fans drooling is a potential match-up between current Middleweight champion Israel Adesanya and current Light Heavyweight champion Jon "Bones" Jones.
The two men do not like each other and have gone back and forth on social media quite a bit. Israel Adesanya has taken the sport by storm and, like Conor McGregor, is very gifted with his ability to talk and rile up his opponents.
Jon Jones, on the other hand, has been on top of the Light Heavyweight division for years, and this has led to staleness in the division. There has been plenty of talk of Jones moving up to face Stipe Miocic for the Heavyweight title, though a battle between Jones and Adesanya will likely make much more money, given the brashness of Adesanya and his entertaining fighting style.
I mean, who wouldn't want to see Adesanya square off against Jones?'
There has been disagreement as to where the proposed fight would take place, with Adesanya inviting Jones down to Middleweight, and Jones demanding that Adesanya challenge him at Light Heavyweight. Given Jones' standing in the sport, as well as his massive frame, Jones is surely in the right in this one.
In reality, Adesanya hasn't yet successfully defended his Middleweight title, and he should be required to successfully defend multiple times before moving up for a super fight. This is the UFC, however, and if there is a great pile of money to be made with this fight, the UFC will surely book it sooner rather than later.
-
Adesanya and Jones aren't too far apart in terms of weight, at least according to Jones himself, who says that he and the Middleweight champion walk around only a few pounds apart.
There is a clear advantage for Jones in terms of his wrestling pedigree, and he would surely look to impose his advantage over Adesanya on the ground. Getting into a striking battle with Adesanya wouldn't seem like the smartest move, even for the mixed martial arts GOAT.
Having said that, Jones is prideful and I wouldn't be surprised if he attempted to beat Adesanya at his own game, especially given the amount of trash that was talked.
If Jones stuck to a smart game plan and attempted to keep the fight on the ground, Adesanya would likely be in very big trouble.
Adesanya, on the other hand, would be wise to keep the fight standing, though he would have issues with Jones' length, which has been Israel's advantage in his past fights.
Adesanya is younger, though Jones has an incredible amount of experience, especially in big fights.
This would be a fascinating fight.
-
As of this moment, Jones is a slight favourite to win, though not by as big of an amount as you might think. Here are the current betting odds:
Israel Adesanya, +100
Jon Jones, -130
As you can see, Jones is a bit better than a coin flip to win, while Adesanya is even money.
Will the UFC gift us this excellent match-up? Let's hope.