Can Jon Jones Reclaim the Light Heavyweight Title?
Published on December 22nd, 2018
Written By:
Dave Manuel
Click Here To Bet on Jon Jones vs Alexander Gustafsson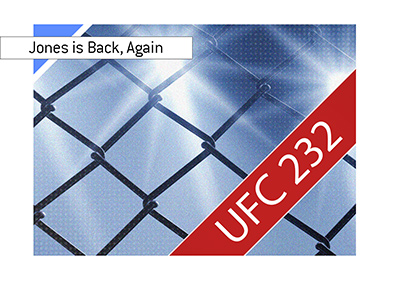 Jon "Bones" Jones is easily one of the most talented fighters to ever step foot inside of the Octagon.
On the other hand, Jones is also one of the most frustrating fighters to ever step inside the Octagon - full of talent but disappointing in so many ways.
Jones' history doesn't need to be rehashed in this article, though it seems as though every step forward in Jones' fighting career has resulted in him taking two steps back, via his own foolishness.
One thing is for certain, however - Jones is one of the most compelling figures in the UFC, and his return on December 29th will be watched by millions.
Alexander Gustafsson gave Jon Jones the toughest fight of his career a number of years ago, with Gustafsson losing via split decision. Jones would dismiss the closeness of that fight, as he has said that it took place at the height of his partying days and that he wasn't properly prepared for Gustafsson.
Gustafsson fans, on the other hand, will argue that Jones was not a clean fighter at the time of their first tilt and that the playing field will be much more level this time around.
Rust shouldn't be a determining factor in this fight, as neither fighter has fought much over the past couple of years, either due to injury or suspension.
Gustafsson's height gives Jones' some issues, as we saw in the first fight. One of Jones' biggest strengths is his reach, and that is negated by Gus' long frame.
Gustafsson had the edge in the first fight when it came to boxing, though Jones has promised that he has done substantial amounts of work on this facet of his game.
One of Jones' biggest weapons is his takedowns, though Gus managed to stay on his feet for most of the first fight.
Jones has more big fight experience, though Gustafsson has fought for the title multiple times as well. Jones, however, has won a title, while Gustafsson has not.
-
This fight is really tough to call as both men have been off for a long while. If Jones' contention that he only had a very trace amount of steroids in his system for the Cormier fight is true, will he have fallen off very much? Maybe not.
Both fighters have a tremendous amount of pressure in this fight, Jones wants to protect his legacy and earn potentially big money fights against Cormier and/or Lesnar, while Gustafsson wants to finally win the big one.
The more I think about this fight, the more I think that it's a coin flip. Given that Jones is a big favourite to win, I think you know where I think the value is in this scrap.