High School Rushing Record Continues To Be Held By John Giannantonio
Published on January 8th, 2023 1:01 am EST
Written By:
Dave Manuel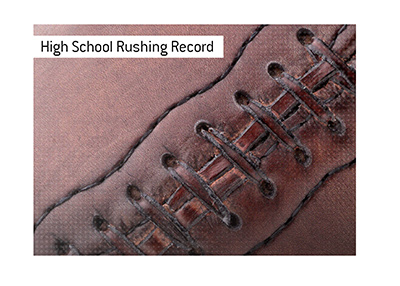 John Giannantonio wasn't a big, bruising running back in the mold of Derrick Henry.
Instead, he was quite small when he broke the single-game high school rushing record in 1950 - just 5'7 and 137 pounds.
John Giannantonio, however, was fast - very, very fast.
And his offensive line was really, really good.
-
It was 1950, and John Giannantonio was the starting halfback for Netcong High School.
As mentioned, Giannantonio wasn't very big, but he was very quick. When he broke out of the backfield, he usually wasn't touched.
During Netcong's undefeated season in 1950, Giannantonio averaged well over 500 yards per game.
In fact, Giannantonio rushed for 4,756 yards over the course of just eight games, meaning that he averaged
594.5 yards per game
on the ground.
During a 61-0 victory over Mountain Lakes, Giannantonio would rush for 754 yards and 9 touchdowns.
In fact, Giannantonio's rushing total was reportedly even HIGHER, as the newspaper that tracked his statistics in the game only recorded his touchdown runs, meaning that all of the yardage gained on his non-touchdown runs was ignored and not recorded.
So, in fact, the total yardage number was likely much higher.
-
Giannantonio was so fast that he earned the nickname "Citation", which was a horse that won the Triple Crown.
Giannantonio would receive scholarship offers from a number of big schools, but he ultimately chose to attend Villanova.
After finishing college, Giannantonio was contemplating playing in the Canadian Football League, though a draft notice from the U.S. Army changed his plans.
Giannantonio would teach high school math at Andover Regional Middle School for decades before retiring in 1995.
Giannantonio's single-game rushing record continues to stand to this day.