Minnesota Timberwolves Were Punished Severely For Salary Cap Shenanigans
Published on September 7th, 2021 3:06 pm EST
Written By:
Dave Manuel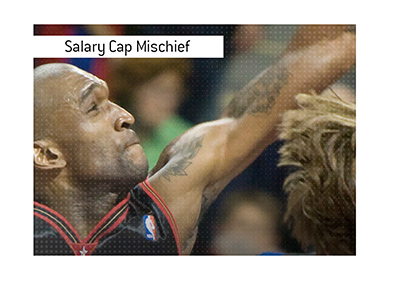 The biggest salary cap scandal in the history of the NBA involved a player that, if we're being honest, wasn't very good.
Joe Smith was the first overall pick in the 1995 NBA draft, going ahead of players such as Kevin Garnett and Jerry Stackhouse.
After a decent rookie season, Smith would play for the Warriors for 2 1/2 years before being dealt to the Philadelphia 76ers in the last half of his rookie year.
Smith was decent enough at the time, and would likely command some good money on the free agency market.
After the 1999 lockout ended, Joe Smith signed a 1 year, $1.75 million deal with the Minnesota Timberwolves. This was a bizarre contract, as it was well below Smith's perceived value. What was he thinking? After all, Smith had turned down an $80 million extension with the Warriors before he had been traded to the 76ers.
After this deal ran out, Smith would sign two more 1-year deals that were well, well below his market value. So, three short-term 1-year deals, all of which were for well below market value.
Was Smith's agent an idiot, or was there something more sinister going on here?
-
In the end, Joe Smith and the Timberwolves were in cahoots the entire time.
In an effort to keep their salary costs lower, the Timberwolves and Smith agreed to three 1-year deals. At the end of those three deals, the Timberwolves would acquire Smith's "Bird Rights", which would allow the team to give Smith up to $86 million without worrying about going over the cap.
Genius, right? Both sides win in the deal.
The problem? This was illegal per the terms of the NBA's Collective Bargaining Agreement.
The deal was unearthed after agents Eric Fleisher and Andrew Miller parted ways. The two parted ways in acrimonious fashion, and the split eventually found its way to court. Via discovery, the illegal deal between Smith and the Timberwolves came to light, and the NBA came down like a ton of bricks.
Here was the fallout:
Joe Smith's three contracts years were voided, so he lost his Bird Rights
The Timberwolves were fined $3.5 million and lost their first-round picks for the next five years (their 2003 pick would eventually be returned to them)
Timberwolves owner Glen Taylor and VP of Basketball Operations Kevin McHale were both suspended
-
Smith would become an unrestricted free agent and would sign with the Detroit Pistons before returning to the Timberwolves a year later on a 6-year, $34 million deal.
-
In the end, this was an embarrassing episode for a franchise that had plenty of embarrassing episodes over the years.