Critics Thought That The 49ers Took Montana Far Too Soon
Published on December 10th, 2022 7:26 pm EST
Written By:
Dave Manuel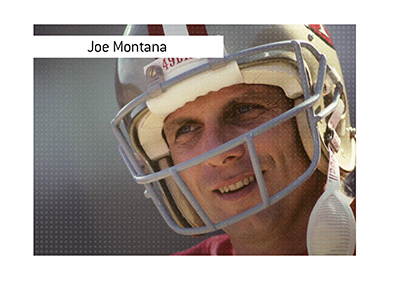 Joe Montana, one of the greatest quarterbacks in the history of the NFL, was not taken in the first round of the 1979 NFL Draft.
Joe Montana wasn't even taken in the second round.
Montana, the quarterback from Notre Dame, was selected at the end of the third round by the San Francisco 49ers.
The crazy thing?
The 49ers were actually criticized for taking Montana "too soon".
Pundits felt as though Montana was worth a fifth-round pick at most.
Critics felt as though the 49ers had blundered heavily by trading away their first-round pick in the 1979 NFL Draft.
A first-round pick that could have been used on a "real" quarterback like Jack Thompson.
Instead, Bill Walsh took Joe Montana with the 82nd overall pick, much to the gasps of some critics.
The criticism was so harsh, in fact, that the situation ended up in Bill Walsh dropping an all-time quote:
"Few men are qualified to evaluate the quarterback position. Fewer still are qualified to coach the position".
-
Joe Montana was serve as the backup QB for the 49ers during the 1979 season.
In a 1980 game against the New Orleans Saints, the Saints would take a 35-7 lead into halftime.
Montana would lead the 49ers back to a thrilling 38-35 victory, and his position was the 49ers' starting QB was cemented.
In 1981, the 49ers would finish with a 13-3 record, and one of the great NFL dynasties would begin.
Over the course of his career, Montana would win four Super Bowls and 2 MVP awards.
-
It's incredible to think that, given the career of Joe Montana, the 49ers took an incredible amount of heat for choosing him in the third round.