Joe Montana Retired While Still Playing at a Very High Level
Published on September 17th, 2023 2:14 pm EST
Written By:
Dave Manuel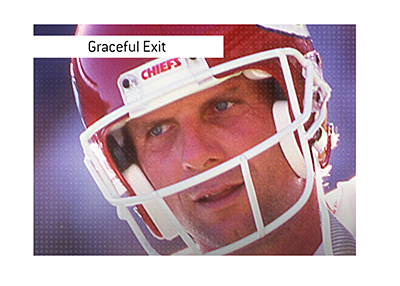 It's a common story - the former superstar player who sticks around a bit too long, ultimately lamenting that they should have retired while on top.
This wasn't the story with Joe Montana, who had every reason to fizzle out after ending his career with the Kansas City Chiefs.
Instead, Joe Montana went out while continuing to play at a very high level.
-
After establishing himself as one of the greatest quarterbacks of all time with the San Francisco 49ers, Joe Montana barely played any football in 1991 and 1992.
In 1991, Montana missed the entire season due to injury.
In 1992, Montana threw just 21 passes as a "QB controversy" erupted in San Francisco, as somebody named Steve Young took over the team.
Montana didn't want to go out as a backup QB, so he requested a trade, and eventually landed in Kansas City as the new starting quarterback for the Chiefs.
A potential disaster for Montana's legacy was brewing.
Montana was in his late 30s, had barely played football for the past two years and now had to learn a new offense.
Would Montana fizzle out? Would he end up wishing that he had just retired at the end of the 1992 season?
-
Montana proved that he still had it during his two seasons with the Chiefs, leading the team to a combined record of 17-8 as the starter.
In his 25 starts with the team, Montana threw for roughly 5,400 yards and 29 touchdowns, while tossing just 16 interceptions.
In 1993, the Chiefs finished with a record of 11-5, and Montana led the team to two playoff victories, where they eventually succumbed to Buffalo in the AFC Championship.
The Chiefs would finish with a record of 9-7 in 1994, though Montana was 9-5 in games that he started. In just 14 games, Montana threw for 3,283 yards and 16 touchdowns, proving that he was more than capable of leading the Chiefs offense.
The Chiefs would lose to Dan Marino and the Miami Dolphins in the first round of the playoffs that year.
-
Despite having a year left on his deal, Joe Montana decided to hang it up at the end of the 1994 season, never to return.
Did Montana return to prove that he could still do it after losing his job to Steve Young?