Joe Horn Was Down To His Last $6 And Made The Savviest Purchase of His Life
Published on December 14th, 2022 4:56 pm EST
Written By:
Dave Manuel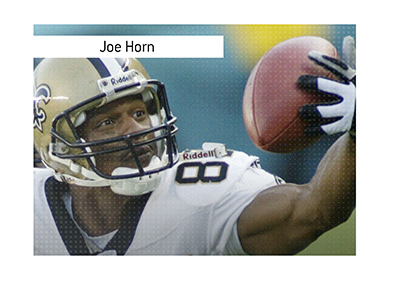 It was 1994, and time was running out for Joe Horn.
If Joe Horn was going to reach his goal of becoming a professional football player, he was going to have to move fast.
The clock was ticking.
After playing two years of college football at Itawamba Community College, Joe Horn had taken different jobs to try and make ends meet.
This included a job at a Bojangles restaurant, as well as a job at a furniture factory.
Joe Horn was down to his last $6 when he made a purchase that would change his life forever.
While at a local Blockbuster Video, Horn saw a video in the discount bin that caught his eye:
A Jerry Rice workout tape that cost $3.
Horn took half of his remaining money and bought the tape.
-
Joe Horn studied the video tape religiously and started to practice the drills on his own.
Horn decided to make a video tape of himself working out - not playing but working out - and sent it to every professional football team that he could think of.
Horn's plan worked, as he secured a workout with the Baltimore Stallions of the CFL and was signed to their practice squad.
Horn would never play for the Stallions, but a stint with the Memphis Mad Dogs of the CFL would bear fruit, as he made that team and performed extremely well, posting a stat line of 71 catches and 1,415 yards during the 1995 season.
Horn had put himself on the map, and was now being scouted by NFL teams.
Horn was drafted by the Kansas City Chiefs in the fifth round of the 1996 NFL Draft, though he was used sparingly during his time with the team.
Horn would sign with the New Orleans Saints in 2000, and that is when his NFL career would really take off.
Horn would make the Pro Bowl four times during his time with the Saints, and is regarded as one of the best wide receivers in the history of the team.
Horn's best season would come in 2004, when he would catch 11 touchdowns and post nearly 1,400 receiving yards.
Horn would retire after the 2007 season.
-
In 2005, Joe Horn and the Saints signed a 6-year, $42 million deal.
10 years earlier, Horn was down to his last $6.