Joe Burrow Received an Astonishing 841 First Place Votes in 2019
Published on August 10th, 2023 2:15 pm EST
Written By:
Dave Manuel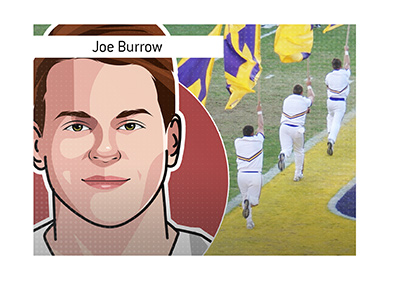 In 2019, Joe Burrow had a season for the ages while suiting up as a senior for LSU.
The season was so good, in fact, that it made Burrow the clear first overall pick for the Cincinnati Bengals.
In 2019, Joe Burrow appeared in a total of 15 games for LSU and put together these mind-boggling stat lines:
402-527
76.3% Completion Rate
5,671 Passing Yards
60 Passing Touchdowns
6 Interceptions
202.0 Passer Efficiency Rating
LSU went undefeated that season and won the national title.
-
It shouldn't surprise you to hear that Joe Burrow won the Heisman Trophy in 2019.
It also shouldn't surprise you that Burrow won by the largest margin in Heisman Trophy history.
Burrow received a total of 841 first place votes, 41 second place votes and 3 3rd place votes, to give him a total of 2,608 points.
The runner-up, Jalen Hurts, finished with a total of 762 points.
This 1,846 point gap between Burrow and Hurts remains the largest in the history of Heisman Trophy voting.
There were some phenomenal players that received Heisman Trophy votes in 2019, including: Burrow, Hurts, Justin Fields, Chase Young, Jonathan Taylor, J.K. Dobbins, Trevor Lawrence, Chuba Hubbard, Travis Etienne and Tua Tagovailoa.
-
The biggest question mark that people have about the 2019 Heisman Trophy voting is this:
How could three voters have possibly thought that Burrow was the third best place in college football that season?