Joanna Champion Listed at 1.17 To Win
Published on November 2nd, 2017 4:14 pm EST
Written By:
Dave Manuel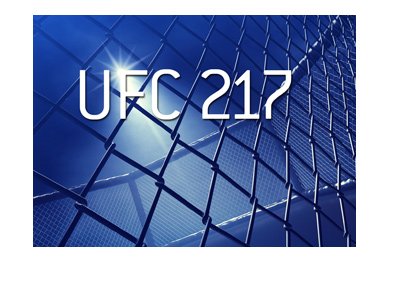 UFC 217, which takes place in New York City this weekend, will feature three title fights - Georges St. Pierre vs Michael Bisping, TJ Dillashaw vs Cody Garbrandt and Joanna Jedrzejczyk vs Rose Namajunas.
The Women's Strawweight title fight features one of the most dominant champions in the UFC in the form of Joanna Champion. Jedrzejczyk has proven to be a seemingly unbeatable combination of top-level striking and supreme cardio - even in fights where the champion has been in trouble, she has managed to overwhelm her opponent via her second-to-none cardio.
Namajunas will most certainly be at a striking disadvantage in this fight, so she will certainly try to take things to the ground early. In order to win this fight, in my opinion, Namajunas must take the champion down early when they are both still fairly dry. The longer the fight goes, the more it plays to the champion's advantage. If Namajunas can't get the champion to the ground in the first few rounds, there is likely no chance that she wins.
While Namajunas has the edge on the ground, she will need to penetrate the champion's defences in order to get close enough to attempt a takedown. This is going to be easier said than done - "Thug Rose" was outstruck by Karolina Kowalkiewicz, which leads me to believe that she will have an even worse time against the champion.
-
Here are the current betting odds for the fight:
Joanna Jedrzejczyk, 1.17
Rose Namajunas, 5.5
According to these odds, Rose pulling off the upset is a real long shot.
Method of Victory:
Joanna Champion by Decision or Technical Decision, 1.77
Joanna Champion by KO, TKO or DQ, 3.1
"Thug Rose" by Submission, 7.0
Rose Namajunas by Decision or Technical Decision, 10.00
Rose Namajunas by KO, TKO or DQ, 17.00
Joanna Jedrzejczyk by Submission, 21.00
Draw or Technical Draw, 51.00
Total Rounds
Over 2.5 Rounds, 1.53
Under 2.5 Rounds, 2.5
-
Of the three title fights on the card, this is the most lopsided of the three, and for good reason.
There is no reason to think that Rose will be able to overcome the massive striking advantage that the champion enjoys - having said that, mixed martial arts is a sports where anything can happen, though this would certainly count on the biggest upset of the night if "Thug Rose" is able to pull it off.